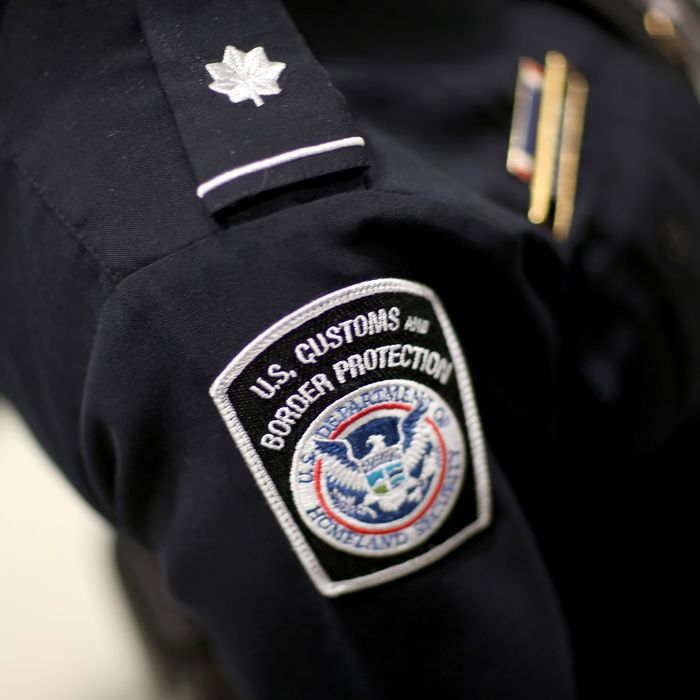 Two sisters say a CBP agent sexually assaulted them.
Photo: Joe Raedle/Getty Images
Two Guatemalan sisters have filed a federal tort saying a Customs and Border Protection officer sexually assaulted them in July 2016, when they were 17 and 19 years old. According to the New York Post, the sisters were lost along the Texas-Mexico border when they spotted two CBP agents and asked for help. They were reportedly taken to a field office in Presidio, Texas, where they say an officer forced them one at a time into a "closet-like room" and assaulted them.
According to the complaint, the officer removed the first sister from the holding cell and forced her into the room, blocking her exit. He then ordered her to remove her clothes and "ran his hands over the front of her breasts for a few seconds." He then "forcefully pulled down her underwear" and "touched [her] vaginal area, running his hand over her vagina." The ordeal lasted five to seven minutes, and was repeated with the second sister. Back in the holding cell, the officer reportedly asked both girls not to tell anyone what had happened.
The sisters told another CBP agent what had happened, and the Department of Homeland Security's Office of Inspector General reportedly launched an investigation into the assault, but criminal charges weren't pursued.
"CBP is not above the law," said a lawyer for the American Civil Liberties Union, which filed the tort on behalf of both women. "Its abuses of power must not be tolerated." The ACLU filed the suit under the Federal Tort Claims Act, which lets individuals sue the federal government for monetary damages — each sister is seeking $750,000.
"I'm telling my story because I don't want anyone else to go through this," one woman said. "I hope the officer will be honest about what he did and take responsibility for his actions." CBP, meanwhile, told the Post it would "fully cooperate" with any investigation.