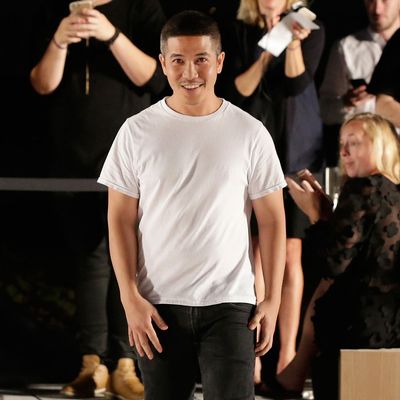 Thakoon Panichgul.
Photo: JP Yim/Getty Images for Kerastase Paris
In 2015, designer Thakoon Panichgul unveiled a new approach to his business: He would leave behind the seasonally-out-of-sync runway-show schedule and focus on see-now-buy-now looks and e-commerce. Thakoon wasn't the first to adopt see-now-buy-now — Chris Benz at Bill Blass and Tamara Mellon were among those already riding that wave – but he was one of the first big names to try out the concept, with significant investment from Vivian and Silas Chou's Bright Fame Ventures. Since then, countless designers have followed suit. But whether the approach has worked for Thakoon has been cast into some doubt given today's news, via Business of Fashion, that the designer is planning to restructure his business.

BoF reports that Thakoon and Bright Fame are taking a Ross-and-Rachel-style break from the brand. According to a statement from the company, "We have recognized that the business model is ahead of the current retail environment. Therefore, we are taking a pause and an eventual restructure." One potential issue the article points to is name recognition — though well-known in fashion circles, the designer reportedly had to devote a large chunk of his budget to online marketing that clued customers in to the brand.

The spring collection Thakoon showed at this past New York Fashion Week will make it to market, but the prognosis is unclear after that. Panichgul sounded optimistic, however. "It was time for my brand to explore a new business model and this opportunity allowed us to do so," he told BoF. "We can now take the learnings from this to apply to the next evolution of Thakoon."