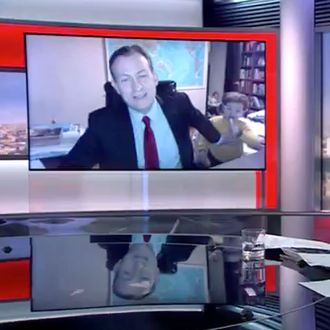 Robert E. Kelly and children.
Photo: Courtesy of BBC
Internet reactions to the video of the BBC interview interrupted by a father's two young children are rolling in. If you haven't seen it, watch it:

Many initial reactions express delight:
And a general theory was presented:
Other Twitter users began commenting on parenting style:
As the (incorrect) assumption the woman in the video is a paid caretaker was perpetuated:
But pointed out:
And Facebook-sleuthed:
The eventual condemnation of the dad was foreseen by some:
And then, fully realized:
At least people are scrutinizing a dad instead of a mom?