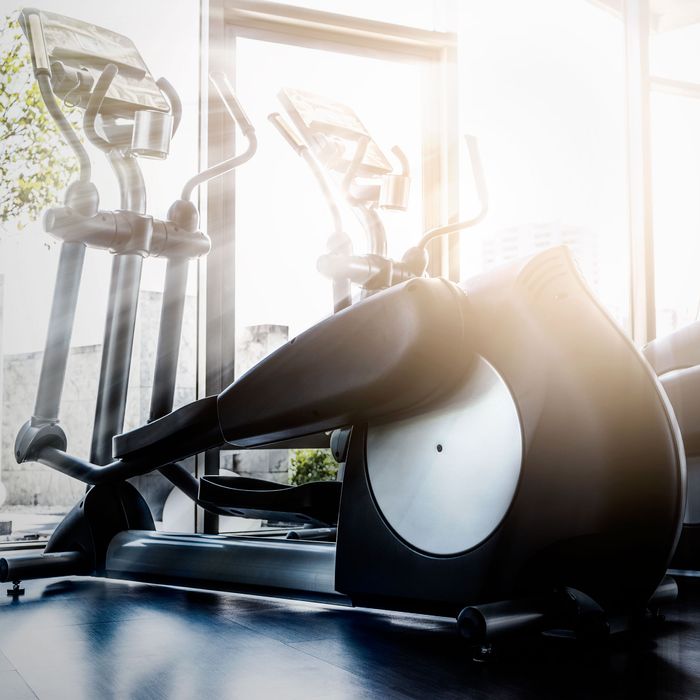 Get Sex Diaries delivered every week.
New York's Sex Diaries series asks anonymous city dwellers to record a week in their sex lives — with comic, tragic, often sexy, and always revealing results. This week, a 26-year-old mental-health counselor who wants a relationship: 26, gay, single, Chelsea.
DAY ONE
6:20 a.m. Shit, I'm up before my alarm. I slept surprisingly well — must have been my new pillows. Or the nut I rubbed out right before bed.
8:09 a.m. My only meeting is canceled. Yes. I decide to check all my dating apps. This somewhat-hot guy, Cory, is online — I had to cancel brunch with him last-minute a week or so ago. Message him another apology.
I've been single my whole life. I'm naturally caring, empathetic, and a hopeless romantic. It sucks. It's not that I'm ugly … I'm actually pretty good-looking and successful, a catch. My problem is the guys I want end up being tools. The good guys who are crazy about me aren't my type or are too feminine. God, I'm an asshole.
1:30 p.m. I end up on Scruff, where I make lunch/sex plans with a hot finance guy. I hope he's bossy.
I was raised in a single-parent home by a teenage mother, which caused me to grow up very independent and responsible. This has affected every area of my life, especially dating. Because I've had to be so strong and dominant all the time, I want to be with someone willing to be dominant. I want a relationship where I can be submissive for a change.
2:49 p.m. The hot finance guy is being sketchy. I end up having lunch at my desk and reading Chrissy Teigen's essay on her postpartum depression.
5:15 p.m. Cory hit me back — he's down to reschedule. Perfect.
6 p.m. At the gym. My gym crush, this guy I've been eye-fucking the last couple of months, gets on the StairMaster right next to me. Fuck yes.
6:09 p.m. Thinking about him thrusting inside me while he's passionately thrusting up the stairs on the machine. Trying to hide my boner. Damn.
7:20 p.m. Workout over. Hitting the shower. Definitely going to beat off before bed.
11 p.m. Fell asleep without beating off. I get up, brush my teeth, put in my retainer, and hit the sheets.
DAY TWO
10 a.m. I'm on Scruff in between sessions. The hot finance guy is back and wants me to "homicide" his asshole over lunch. He's only 900 feet away and knows of a discreet apartment we can use. I need the mental break and wouldn't mind hammering a tight ass. I work as a counselor and today, my clients just lack basic common sense. Literally had a client earlier who thought it was fall. As in the season, fall.
12 p.m. Skip lunch, meet Finance Guy at the random apartment. He immediately grabs my dick, throws a condom on, and lathers it with lube. I notice his wedding ring. He catches my gaze and casually mentions he has a wife. Shit. I push inside him anyway.
12:23 p.m. Quickie over. I feel bad for his wife. I wonder if she has any suspicions. I pounded him so hard he cried a little. Good.
6 p.m. Spot Gym Crush, who's an older bearded guy, again, this time on the track. He's about six feet, normal build, masculine. We exchange a few glances. I wonder if he knows I want to fuck him 50 different ways in five minutes.
6:10 p.m. Gym Crush climbs on the StairMaster next to me. I keep sneaking glances. His ass is hot enough to melt butter.
6:15 p.m. Fantasizing went too far. Trying to hide my boner, again.
7:30 p.m. Headed to the locker room. Gym Crush is changing clothes. I steal a couple looks and drop my clothes. Then I turn so he gets a full frontal.
9:30 p.m. In bed looking at my schedule for the next day. I decide to log on to Scruff and Nick, a hot German guy, messages me. We've fucked several times but once I started to catch feelings, he backed off quite a bit. I have a thing for Europeans. Within minutes, I'm ordering an Uber to travel the 20 minutes to his place. FML.
9:54 p.m. I walk in. He takes my cock down his throat on sight.
10:30 p.m. We're fucking in the shower. It's awkward, but good — he's six inches taller than me. I do appreciate that he keeps his ass nice and tight. I feel everything.
11:42 p.m. Back home, in bed. I smell like sex and decide to sleep in the stench.
DAY THREE
9 a.m. I have a session with a hot real estate agent. He's super straight, but delicate. I'm not usually attracted to clients, and as of right now it's harmless. As a counselor I have to be very aware and check myself and my feelings. If I can't, I need to refer the client out. It's the professional and ethical thing to do.
9 p.m. Exhausted, eating leftovers from lunch in bed. I jump on Tinder and start the swiping process. I have a love-hate relationship with Tinder. There are attractive guys on there and I get plenty of attention, but everything is so instant. I sound like a hypocrite, but I'm tired of hookups. I want something deeper.
DAY FOUR
6:45 a.m. I jerk off in the shower to thoughts of Gym Crush. I haven't seen him around the gym since earlier this week.
11 a.m. I'm texting Cory, mostly out of loneliness. I guess I am desperate for attention. Growing up the oldest in a single-parent home was not the easiest. My mom and I are 16 years apart and we've never had a close relationship. I'm constantly looking out for her well-being and giving her love because I know she needs it. This trend has translated into my dating life. I have a lot of love to give, and that can scare guys away.
11:15 a.m. Cory and I make dinner plans for Friday. Great.
2:45 p.m. I log on to Tinder. I match with a news-reporter guy, Brett. He's hot and from what his profile says, I assume he's highly cerebral. I message him to say hey.
2:50 p.m. He responds: "Hey, I have a thing for huge black cock."
I immediately unmatch him. Either guys have black fetishes, or they aren't attracted to us. It's a merry-go-round. In all fairness, there are plenty of gay men who don't discriminate based on race. I have a hard time finding them though.
9:30 p.m. I'm in bed. A friend texts and asks if I want to partake in "Thirsty Thursday." I ignore it and turn over.
9:45 p.m. My friend calls. I answer and reluctantly agree to go out.
10:30 p.m. Going out was the best idea ever. I'm out with straight friends. They get a kick out of trying to figure out which guys are gay.
10:45 p.m. We switch bars. This hot guy in the corner is staring at me. My buddy strikes up a conversation with the girl he's with. After a few minutes I casually walk over and join.
11 p.m. The hot guy is Travis and the girl is his sister, Aly. This is great: I'm into Travis and my buddy is into Aly. Travis tells me he's "recently gay." Not sure what that means, but I assume it's his subtle way of telling me he's recently "out." Either way, he's a tan, attractive frat boy. If nothing else, I wouldn't mind fucking him doggy style tonight.
1:30 a.m. We're definitely getting older — we've lost half of our six-man crew and are all pretty wasted.
2:15 a.m. My buddy and I decide to go back to Aly's place with her and Travis.
2:30 a.m. It's a loft space. Weird.
2:40 a.m. My buddy and Aly are hooking up 100 feet away from us. Travis doesn't seem too fazed by it … which creeps me the fuck out because, um, it's his sister?
2:55 a.m. I'm in an Uber home. Traumatized.
DAY FIVE
6:17 a.m. I lie in bed for 20 minutes. I'm hungover as fuck.
8:09 a.m. I stumble into the office. I have one session today at ten. I decide I'm going to grab lunch after and just head home to sleep.
1:30 a.m. I'm back home and decide to turn off my phone to catch some much-needed sleep.
5 p.m. I'm up to shower and get ready. I text Cory for dinner plans. He wants barbecue. I'm down.
Part of me feels bad for going on dates with people I know I'm not interested in. Part of it is loneliness, but another part of me thinks this is how I'll fall in love — unexpectedly.
7:30 p.m. At dinner with Cory. Trying really hard to like him, asking questions, trying to find similarities. It's not working.
9 p.m. I think I might like Cory as a friend. He's super funny, but I just don't feel a connection. We decide to hit the bars.
10:30 p.m. Tipsy. I've kissed Cory, twice. We're still flirting with other guys — I like this.
12:45 a.m. We're at Cory's place. I just cuddle with him.
I have always been relationship-oriented and have spent most of my life telling myself it'll happen in high school, or college, or as a young professional. Yet, here I am.
DAY SIX
7:09 a.m. Cory is still passed out. He's a good guy, just not for me. I'm glad we didn't hook up.
7:32 a.m. I wake Cory up and tell him I'm heading home. I call an Uber and awkwardly stand outside his apartment.
8 a.m. Home. I crawl into bed, log in to Hulu, and put How to Get Away With Murder on.
6 p.m. I make plans to meet up with a group of mostly straight guys later. I need a bro night.
10 p.m. The pregame is in session. Every time someone says "Fuck," we all take a shot. I feel sin coming on.
11:30 p.m. We're all drunk. Headed to the bars. Send help.
2:30 a.m. We've joined a table of beautiful women. Not one guy in sight other than my boys. Good.
2:45 a.m. Someone just puked all over the table. We're being kicked out.
3:30 a.m. Sitting on my couch watching Family Guy with my closest guy friend. I start confessing all my feelings of rejection and describe in detail all the sex I've been having to cover up my emotions.
DAY SEVEN
9:30 a.m. I'm back home in bed. Definitely struggling from a hangover. One text from Cory. I respond, then turn off my phone.
9:45 a.m. I head to the kitchen and pry open a bottle of Tylenol. I decide today is going to be a self-care day.
1 p.m. Apartment clean, laundry done, lunch in the oven. I open a bottle of wine and turn on '90s R&B.
3 p.m. "Survivor" by Destiny's Child comes on and takes me out of my feelings. I feel unstoppable. Naturally, I pull my shorts down, find my favorite video on Pornhub, and go to town.
3:10 p.m. I come hard, twice. Nap time.
9 p.m. I wake up. Shit, I'm going to be up all night. I turn my phone back on. No missed calls and only one text. It's from Cory. I don't respond. I plan on telling Cory I don't feel anything for him and would love to be friends, but that's a conversation for another day.
9:30 p.m. I log on to Scruff, read a few messages, become annoyed, and put my phone down.
After a few minutes, I look again. Then I delete the app. Immediately, I feel lighter. I continue the trend: I log on to Grindr, Tinder, Bumble, deleting them all within seconds. The only thing these apps have brought to the table is sex and anxiety. I figure I can try other methods of meeting people, more organically. I don't know how that will work out or happens next, but that's all right.

Get Sex Diaries delivered every week.
Want to submit a sex diary? Email sexdiaries@nymag.com and tell us a little about yourself.