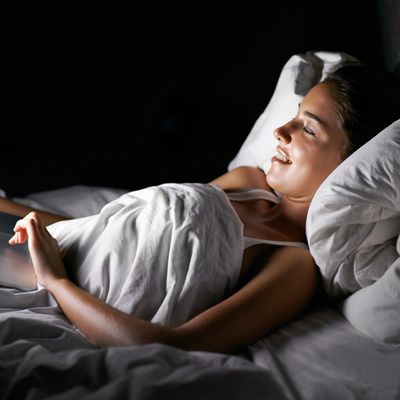 Photo: Yuri Arcurs/Getty Images
People watch a lot of pornography — over 4 billion hours on PornHub alone last year. While sex research is constantly underfunded, academics are finally starting to ask some fundamental questions about all that onanism, like a recent study in the Journal of Sexual Medicine, where a Canadian team, after sifting through survey data, found that there are three kinds of porn users: the recreational, the compulsive, and the distressed.
Lead by Marie-Pier Vaillancourt-Morel at Université Laval in Quebec, the research team gathered a convenience sample of what ended up being 830 participants from university lists, web classifieds, and social networks. Over 70 percent were women, the mean age was 25, and 80 percent were heterosexual. Relationship status was a pretty even split: About 35 percent were married or cohabitating, about the same amount were single, and 29 percent were dating.
The respondents took quizzes measuring their overall sexual satisfaction, their tendency to avoid sex, sexual dysfunction, and a three-part porn-use scale. It asked how compulsive their porn use was (e.g., "I believe I am addicted to internet pornography"); how hard they worked to access porn ("At times, I rearrange my schedule to be alone to view pornography"); and their level of emotional distress ("I feel ashamed after viewing pornography").
After doing cluster analysis — where participants are, true to the term, clustered into groups — the researchers found some interesting breakdowns. A full 75 percent of participants fell under the recreational grouping, with low scores on all porn use dimensions, an average of 24 minutes of viewing per week. Women and people in relationships were overrepresented in this group.
The "highly distressed non-compulsive" profile (12.7 percent of the sample) had low compulsivity and intensity scores, but lots of emotional distress, and watched for an average of 17 minutes a week. The "compulsive" profile fit 11.8 percent of participants, marked by high scores on intensity and compulsivity, and moderate scores on distress. They averaged 110 minutes a week.
In an interview with PsyPost, Vaillancourt-Morel said that the main message of the study is that porn users are "a heterogeneous population in which distinct subgroups experience quite different sexual outcomes": Porn creates problems for two groups of people, but for the majority, there were no negative sexual outcomes.