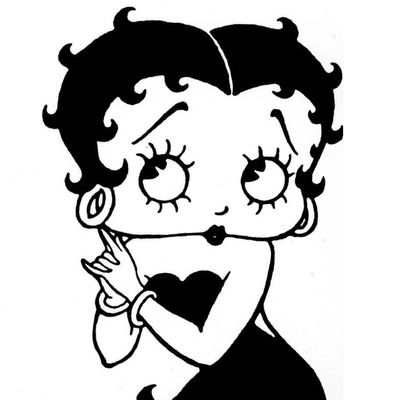 Photo: Fleischer Studios / Ronald Grant
In her first cartoon in nearly three decades, which appeared online in February, Betty Boop steps out of a car into a windy street, her short black dress flaring. She rescues the designer Zac Posen — who is ensnared in monstrous vines — with nothing but a glare, and turns men arguing on the sidewalk into grinning fools with a wink and a smile. She's sexy, independent — and well aware of both, something that has made her iconic since her debut as a character 87 years ago. "As a cartoonist, I consider Betty Boop the eighth wonder of the world," Frank Caruso, the vice-president of comics and cartoons syndicate King Features, said in February when asked about the surreal new animated short, Betty Goes A-Posen, a three-part collaboration with the fashion designer. "When Max Fleischer dipped his pen into the inkwell," Caruso continued, evoking the Viennese-American animator who created the legendary cartoon character, "out came a masterpiece that would influence generations of artists, animators, musicians, and fashion designers."
The new cartoon is part of what Jennifer Wolfe of Animation World Network called "a larger Betty Boop campaign," signaling that the character is experiencing a cultural resurgence. Last month, Posen also unveiled two new dresses inspired Betty Boop, one a flounce-hemmed mini ($250) and the other a floor-length mermaid gown ($550), both in Betty Boop Red; MAC Cosmetics released a sultry red lipstick on Valentine's Day also named Betty Boop Red; the March issue of Woman's Day features "Heroine of Hearts," a comic by King Features starring Boop that promotes women's health; and the famous flapper even stars in a new American play, Collective Rage: A Play in Five Boops, featuring five different versions of the Jazz Age character, the very title of which evokes her signature catchphrase, "Boop-oop-a-doop." The play, which made its West Coast premiere in Pasadena's Boston Court Theater in February and is running through March 19, focuses on gender and sexuality, but also evokes race, as one of the Betty Boops is black. Betty Boop, it seems, continues to dance across the stages of media, makeup, and memories alike. Yet behind her there's a ghost, a figure who follows her everywhere, but who's hardly ever seen: The all-too-often-forgotten African-American cabaret singer named "Baby" Esther who, arguably, truly gave birth to the cartoon character, yet rarely receives credit for it, and whose story, in many ways, tells a larger tale about America itself.
Betty Boop began as both a parody and a powerful symbol of unabashed sexuality, a combination she would retain, to varying degrees, throughout her lifespan in the media. She first appeared in 1930 as an anthropomorphic cartoon canine in the short Dizzy Dishes, where she sang, danced, and wagged her ears. A year later, she had transitioned into a human character, her flappy ears morphing into her now-famous hoop earrings. At once ingenuous, gentle, and kind, she was a female figure who stood out in the world of American animation and comics; whereas early characters like Minnie Mouse were often largely just copies of male figures in women's clothing, Betty Boop was unique. Unlike Olive Oyl in "Popeye" or Minnie Mouse, she wasn't defined by her relation to a more famous male character; she was the main figure all on her own. Over time, she became more and more of an overt sex symbol in black-and-white and color alike, her cleavage and curves clear for all to see.
On the one hand, Betty Boop was a creation of the heterosexual male gaze, with an endless parade of lecherous male characters trying to see under her skirt, yet on the other hand she wore power like a light shawl, her image an in-your-face depiction of unashamed sexuality. (Indeed, in Posen's cartoon, she uses her sex appeal almost like a superpower, and Posen even called her "the ultimate femme fatale and feminist.") She was a stereotype, yet she also defied stereotypes of what female cartoon characters could do onscreen. An early promotional ad describes her as "the first and only feminine cartoon star." In two 1932 shorts, Betty Boop, long depicted as a virgin, even has to try to fend off grotesque male characters who try to rape her, which she is saved from by screaming for help; these were among the earliest cartoons to depict sexual harassment so explicitly. And she could be subversive in other ways, too: In one episode, she changes clothes onstage from a dress to a man's suit, a transformation all the more striking because it subtly suggests a possible queer context for the character. However, her freedoms were short-lived. The National Legion of Decency — which was staunchly Catholic — and the Hays Code both appeared in the 1930s, and they defined and censored "objectionable content" in motion pictures; as a result, Betty Boop soon began wearing far less revealing clothing. As if proof that the character was largely a sex symbol, she fell off in popularity after this enforced modesty. But she was too potent an icon to disappear, and she kept reappearing, adorning everything from candy bars to a Tokyo diner and making a colorful cameo in a 2012 Lancôme commercial for Hypnôse Star mascara.
From the start, Betty Boop was modeled after multiple women. Fleischer created the character largely as a parody of the then-popular white singer, Helen Kane, but he also wished to evoke one of the most visible sex symbols of the Roaring '20s, the popular American actress Clara Bow. Squeaky yet coquettish, almost alien yet alluring, Kane's voice was unforgettable, babyish in its extreme nasality and yet beautiful all the same, and it was almost impossible not to hear Kane in Betty Boop's haunting, silly yet lovely singing. Kane, who had become famous by the time Fleischer's parody came out for her scat-inspired line boop-oop-a-doop, even resembled her more than Bow. The first woman to voice Betty Boop was Margie Hines; several voice actresses later, Mae Questel, who would also go on to voice Olive Oyl, became Betty Boop's best-known voice, even returning in 1988 to voice her in Who Framed Roger Rabbit. As if to cosmically drive the satire home, Questel had won a Helen Kane–look-alike contest in 1925. Perhaps no one saw the character's resemblance to Helen Kane more than Helen Kane, though. She notoriously sued Fleischer Studios in 1932 for, Kane declared, stealing her singing style and catchphrase, which she claimed she'd invented. However, while Kane was indeed a model for Fleischer's character, Betty Boop would not exist if not for Esther Jones.
Esther Jones sang in the 1920s, her beautiful, unusual voice a signature of the Cotton Club in Harlem. Boop-oop-a-doo, she would say as she performed in her flirtatious siren's tone, her dark bob of hair fluttering. In a rare photo of Jones, she is smiling as she sits, her eyes penetrating and kind. Her voice and scat phrases sound strikingly like Kane's and, in turn, Betty Boop's. That was no coincidence. Kane had seen Jones perform in the Cotton Club in 1928; Jones's manager Lou Walton revealed that he had coached Jones on how to scat, the type of singing popularized by black musicians and singers like Louis Armstrong, and Jones herself, Walton said, repurposed scat techniques into boop-oop-a-doo. In the lawsuit, Fleischer, along with all of Betty Boop's voice actresses, testified that the flapper was, ultimately, not based off of Helen Kane but was rather a composite of many figures. The defense even brought out archival footage of Baby Esther singing, which had come from the earliest days of sound recording. It was the nail in Kane's legal coffin. Baby Esther, it turned out, had invented Helen Kane, and, by extension, Betty Boop. Indeed, as jazz scholar Robert G. O'Meally wrote in the anthology Uptown Conversation: The New Jazz Studies, Betty Boop "had, as it were, a black grandmother in her background." She, O'Meally added, "also had a black grandfather" in Armstrong.
However, Baby Esther had disappeared and was presumed dead by the time the court case was cleared in 1934, and Kane continued to be the face and name most associated with Betty Boop. Kane even briefly starred in a comic she herself had pitched called The Original Boop-Oop-a-Doop Girl after losing the lawsuit, the title of which further obscured Baby Esther. The popular Canadian YouTube-content producer WatchMojo was able to produce an entire piece on the history of Betty Boop in 2011 without once mentioning Jones. When Jones does get mentioned in mainstream sources, it's often only in passing, as in The Definitive Betty Boop. And, regardless of Jones's indirect influence, the cartoons of the 1930s that Betty Boop stars in are far from racially progressive. In perhaps the most extraordinary example, a 1932 cartoon begins with Louis Armstrong and his band providing the background music for Betty Boop's trip into a jungle with her sidekicks, Bimbo and Koko the Clown; they are attacked by a tribe of black-skinned cannibals, who kidnap Betty Boop, and, in a particularly cringeworthy scene, Armstrong's own face, giant against a dark sky, chases her beleaguered sidekicks, Armstrong's visage morphing into an animated big-lipped caricature straight out of the iconography of minstrel shows. Of course, many early American cartoons contained such imagery; the origins of American animation, as several film critics have noted, are tied to blackface minstrelsy and vaudeville. (The critic Nicholas Sammond takes it a step further, arguing that characters like Mickey Mouse, Bimbo, and Koko actually are minstrels.) It's telling, but unsurprising, that Fleischer was able to invoke Esther Jones as a legal defense against Kane in one breath and continue to produce such racial stereotypes in the next.
Perhaps it's fitting that Betty Boop is best known in black and white. Her character itself is obviously white, yet would be inconceivable without black artistic tradition — and the same is true of America as a whole. Betty Boop is an indelible icon of the Jazz Age; jazz, which developed partly out of classical music, was created by African-American artists. In 1970 in Time magazine, responding to a peculiarly tone-deaf question from a reader who wanted to know what America would look like without black people, Ralph Ellison, the author of Invisible Man, argued that America would not, could not, be America without black people. The query was an "absurdity," a "fantasy"; to varying degrees, Ellison declared, almost every aspect of the country — from slang to music to economic injustice to the existence of iconic American writers like Twain or Faulkner — is inextricably intertwined not only with the legacy of slavery but with African-American cultural production, yet these ties are all too often forgotten, if not deliberately obscured. That the white Kane took the black Jones's style of singing and attempted to claim it as her own is one of the most common, frustrating narratives in America.
Silly as she can be, I love Betty Boop. That she's still strutting her stuff in 2017, eyes as starry as ever, suggests she's here to stay. In her way, after all, Betty Boop — with her confident sexuality, her innocence and experience, her contradictions, her interweaving racial history — is a symbol of America. Knowing the more complex story of her origins should only make Fleischer's creation richer. I want to believe in an America where we can acknowledge our fraught racial pasts and still influence each other to create beautiful, disquieting art, no matter who we may be — a world where we never forget our phantoms, but learn from them, all the same. And this, to me, is why it's only fitting Betty Boop reappear time and time again: She is us, in part. The next time she sings, we should listen not just for Kane, but for the ghost behind her, who should never have been a ghost in the first place.