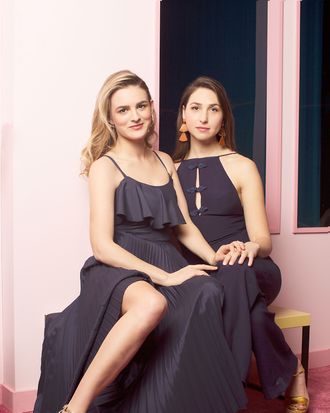 Love and Ressler.
Photo: Carlos Eric Lopez
"We had this idea in back of our heads about creating a female-centric company that supports women," says actress Nathalie Love, "and then with everything that was happening politically, we had this energy and anger inside that propelled us into action." The idea that Love is referring to is a collective, We the Women, that she founded with close friend (they basically finish each other's sentences) and fellow actress Samantha Ressler. The two previously worked together on Ressler's web series, and had been kicking around the idea of another project since. "What you have to do these days as an actress is create your own content," Love adds.
The concept started (relatively) small: The friends set out to put on a play with collaborator Jackie Shea, and the idea snowballed into a more-than-production company and large-scale, two-evening benefit in service of Planned Parenthood. All proceeds from tickets to the play, John Patrick Shanley's Women of Manhattan, were donated to the cause; 100 artists and friends of Love and Ressler donated pieces to be auctioned off at the event, which took place in Los Angeles this past weekend. (You can still purchase art and make donations via their website.)

About that company: "It's kind of boundary-less," Ressler explains of We the Women. "It doesn't have to be a just production company where we're creating film or TV or plays — we want to incorporate much more than that based on the vastness of our interests." And while they won't yet divulge their next initiative, the two say they'll continue to use it as a platform to promote women in the arts and beyond
From an alley adjacent to the 106-year-old Palace Theater in Downtown L.A. (the newly restored venue for their production), Love and Ressler spoke to the Cut about the everything from future of the collective to female friendship to the enduring appeal of Marilyn Monroe. Read on for the full interview.
How did the play and collective come about?
Nathalie Love: [We the Women] started out as just three actresses [the two and co-star Jackie Shea] getting together and talking about politics, and reading plays. Sam found Women of Manhattan — it's a great play about female friendship and has three lead female characters and we were just like, 'why not this one?'
Samantha Ressler: We knew that we wanted to do a play but it wasn't until the election [that we] realized we wanted to bring all different kinds of women creators and artists together for the benefit of Planned Parenthood.
How did the two of you meet?
NL: We both grew up in L.A., but we didn't know each other in high school. I went to public art school on the East Side, she grew up on the West Side, but we had so many mutual friends. We'd both been to acting school, both moved back to L.A., and we kind of ran into each other at auditions, we were doing the same thing.
Where in LA do you live?
SR: I live in West Hollywood and Nat lives in Echo Park. But I basically live in Echo Park and she lives in West Hollywood at this point. We're never not together.
NL: But lately we live downtown, at the Palace Theater.
NL: It's amazing to think about the people that have been in the space, on the stage — [Sandra Bernhardt and the Marx Brothers included] — we are so grateful to be able to perform there. It's magic.
How did you find it?
SR: It's been restored by a family over the last 20 years, and the daughter, Ashley Khakshouri, who's actually producing our play, allowed us to perform there.
Did you always know you wanted to act?
NL: Sam always wanted to do it. She's always been a performer. I was a performer in early years and then I gave it up for a while and then I've fallen back into it. I went to acting school after trying to do other things and not being able to figure out what other things I could do.
SR: I've always known I wanted to do it and it's been my primary career, but I always had bevy of bizarre jobs on the side. I was a preschool teacher, I was a bottle-service girl at a club, the Tearoom — it was dark — I worked at two different clothing stores, and then most recently I was a reader at Condé Nast Entertainment, so I would comb through the archives, vintage New Yorkers 1930s to present. I literally sat in a room and read articles all day.
Who inspires you?
SR: Nathalie and I were both raised by working mothers who have really inspired us that you can have a career but also be a wonderful mother, and part of this exciting female community. I have two sisters so I come from a pretty big family.
NL: I have a sister too, who's my best friend. And I have Sam.
SR: It's really easy to isolate as an actress in Los Angeles because there's sort of this unspoken competition; even when you're sitting in audition waiting rooms and looking around at all the other girls who look like you. To find a partner in that, and to be like, 'We're in this together and there's room for both of us and all of us,' to me has been life-changing.
What's the first thing you do when you wake up in the morning?
SR: I answer like 15 emails and inevitably have questions for Nathalie, so I literally FaceTime her right away and get ignored.
NL: I actually meditate first thing — I do TM — so I ignore Sam's calls a few times then call her back when I'm done meditating.
Coffee or tea?
NL: Sam drinks way too much coffee, it's such a bad idea for her, and I don't drink coffee, I drink tea.
SR: She limits me to like one iced almond latte a day but I try to sneak in two or three.
NL: She already operates on a way-too-caffeinated frequency. We don't need it. Coffee makes me feel so crazy and tea can do the same thing. But I love tea, English.
Who's a woman from history you'd like to have dinner with?
SR: Eleanor Roosevelt and Katharine Hepburn. At the same dinner party preferably.
NR: When I was a little kid I was obsessed with Marilyn Monroe and my mom would make the costumes from her movies — like I had the pink gloves, and you know — fake diamonds and the dress and wig and I would do the red lipstick, it was a little bit sick. I learned all the songs and I would perform at school and all my parents' dinner parties, so I feel like if I had the opportunity I would have to choose Marilyn!
SR: How big can this dinner party be? I'd like to throw in Joan Didion and Gloria Steinem.
What's your favorite movie?
SR: Right now, Nathalie and I have been scouring through every '80s movie, so I would say Hannah and her Sisters is one of my favorites and a big inspiration for this play. Right now I'm in a real late-'70s, early-'80s vibe. Terms of Endearment is another big one.
NL: Every Marilyn Monroe movie. And Gena Rowlands, A Women Under the Influence or Opening Night.
SR: I'm also watching movies about performers, about actresses: Bette Davis in All About Eve … so good. We also just rewatched Metropolitan.
NL: We also went to a Cinespia event at the Palace and saw Lost in Translation, I hadn't seen it since it came out and it's so good — I didn't remember it being so funny.
What's in your bag?
SR: I'm literally like Mary Poppins, if you go inside of my bag you could literally pull out umbrellas, it's crazy, just all sorts of stuff — I think I'm a bag lady.
NL: My bag is a garbage can, it's filled with crumpled-up receipts, I'll decide, oh maybe I'll keep better track for taxes. Then I throw them all away.
SR: Nathalie has a turquoise sparkle notebook and I have a black-and-white marbled notebook. I have a million Chapsticks in mine, I'm a Chapstick addict.
NL: I have some Chapstick in mine too, and a travel-size little perfume, Frederic Malle, Cologne Indélébile.
How do you apply your fragrance?
NL: I do wrist, wrist and then I like to spray a little bit on my stomach. If I'm not clothed maybe I'll spray it on my kneecaps, behind my kneecaps. If someone were to get close to a different part of your body, not just your wrist, you'd want them to smell it.
SR: I use Byredo; I fluctuate between Loose Lips and Bal d'Afrique. And I step into my scent. I spray and then walk.