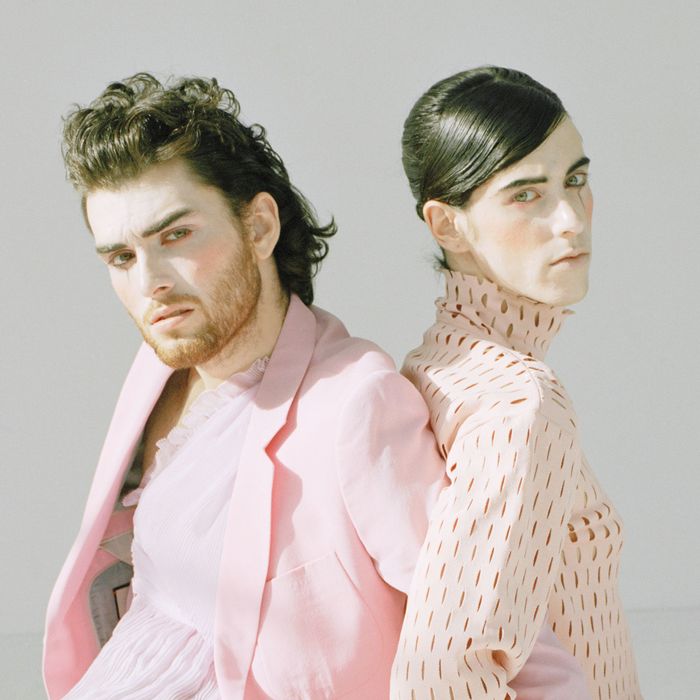 Photo: Ryan James Caruthers
On a frigid February afternoon at a studio space in Gowanus, Brooklyn, Liv Bruce and Ben Hopkins are admiring each other's style. Bruce glides across the studio in a pink Bally pantsuit to show Hopkins — decked out in a plum-colored Rochas chiffon dress, lime Gucci slacks, pink Gucci blazer, and Gucci tiger slippers — a pair of Rochas wedges.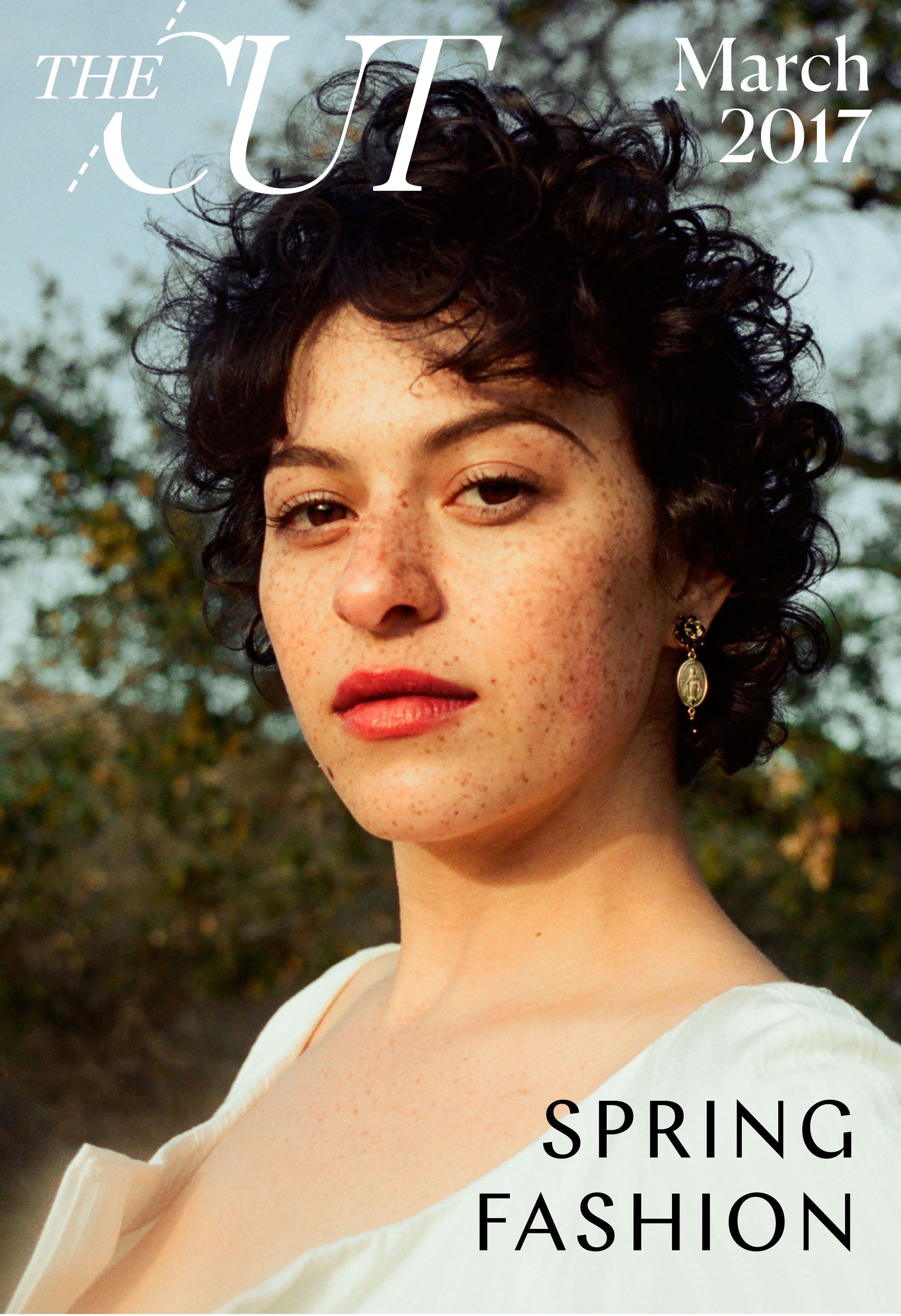 "I want to be buried in this outfit," Bruce declares triumphantly.
The clothes don't make the band, to bastardize an old maxim, but in the case of Bruce and Hopkins — the queer-punk duo better known as PWR BTTM — a carefully curated drag aesthetic defines the twosome almost as much as the raucous, wry three-chorders on their 2015 debut, Ugly Cherries, which introduced them to fans stateside and abroad.
Their follow-up, Pageant, due May 12 on Polyvinyl Records, finds Bruce, 24, and Hopkins, 25, sharing guitar, drum, and vocal duties. Their songs grapple with identity and otherness ("I know that I'm naïve / When you are queer you're always 19," from the track "LOL"), the annoyances of modern love ("Answer my text, you dick!" from "Answer my Text"), and countering hate with self-acceptance ("My advice is to look incredible / As you make their lives regrettable / By being your damn self," from "Big Beautiful Day").
Hopkins, who identifies as queer, describes his personal style as "a Halloween bargain bin in April" and finds onstage inspiration in legendary New York performance artists Taylor Mac and Justin Vivian Bond, who once employed Hopkins as a personal assistant. Bruce, who also identifies as queer, nonbinary, and transfeminine (and prefers they/them/their pronouns) name checks dancer Pina Bausch, Stevie Nicks, and Catwoman. "Specifically Halle Berry's Catwoman," they specify. "I watched the movie three times in one weekend in high school when I was really sick."
Later this year, Pageant will provide the duo an opportunity to indulge their DIY-punk-scene proclivities, zig-zagging the country playing shows and looking fabulous in face paint, with glitter-smeared lips and secondhand dresses. Hopkins prefers $10 prom dresses that he can sweat in and occasionally rip in half, while Bruce has favored rompers lately, owing mostly to the amount of time they spend straddling a drum kit. Both are cagey about their favorite thrift store, calling it only "an enchanted place in Bushwick." When pressed, Bruce explains, laughing: "It's so close to my house and has amazing stuff — I don't really tell people about it."
PWR BTTM's origin story is less of a mystery: The two met at Bard College in Annandale-on-Hudson, New York, Hopkins a "frustrated playwright" and Bruce a modern dance student with a computer-science backup plan and a Hole cover band on the side. While Bruce briefly contemplated giving up music — a memorable experience involving acid and a Phish show at Bonnaroo convinced them otherwise — Hopkins almost never took it up.
"I wanted to be in a band so much that I would tell people that I was," he recalls. "Only it didn't exist — you know, like the girlfriend who goes to a different school. That was me, but with a band: 'Oh, we don't play out a lot.'"
Bruce asked Hopkins to play a one-off show at a queer-fronted festival, Hopkins fibbed about his guitar skills, and PWR BTTM was born. Bruce came up the name, by the way.
"I thought of it in high school," they recall. "My friend and I were talking about the band Limp Wrist, and how cool that name is, so we started bouncing other queer-punk band names off each other. The first one I thought of was The Power Bottoms, which I later shortened to Power Bottom. The second one was Hissy Fit. The third one was My Ass Hurts. Hissy Fit ended up being the Hole cover band I was in; Power Bottom is PWR BTTM. One day I'll start My Ass Hurts."
Their unflagging sense of humor serves them well on their grueling tour schedules, helping them win over new fans and defuse the occasional tense situation, like the one last November at Big Sleepy's, an all-ages venue in Jackson, Mississippi, when a group of protesters picketed their show. The band doesn't care to give the incident any more press, or to be cast as the heroes of their oppressed, small-town following. But Bruce can't resist sharing one story:
"I couldn't decide what dress to wear, so I brought three over to them: my red-and-white polka-dotted housewife dress, my see-through pink jumpsuit, and my snakeskin," they recall. "I said to them, 'I know you think I shouldn't wear dresses and that God hates me for it … but is there any one of these that you hate the least?"
There are limits, of course, to the unifying powers of snakeskin, but PWR BTTM will keep showing up and dressing up, both for their fans and themselves. "Drag has always made me feel less scared," says Hopkins. "When I started playing music, I was more of a character. Now I'm just me with a cool outfit on. I'm more comfortable being myself."
Photographs by Ryan James Caruthers. Styling by Kat Typaldos. Grooming by Angela Huff. Makeup by Steffi Willman at Art Department. Photo assistance by Sofia Colvin. Styling Assistance by Kindall Almond.