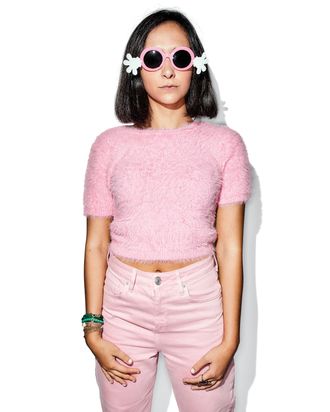 "I prefer tones of gray when it comes to art."
Photo: Bobby Doherty/New York Magazine
Jessica Cinel, Graduate Student
Why this particular shade of pink?
It used to be that pink was associated with spoiled girls, daddy's little girls, you know? But this pink is fun. It's a cooler pink. I found the top and pants at Urban Outfitters in London, where I live, and the sunglasses I got for £8 on the street in Beijing. What's nice is that you can please young girls, like my little sister, who is 13, or you can please my mom's friends, who are like 50, with this color.
What brings you to New York?
I'm here for the Armory Show. I'm getting my master's at the Sotheby's Institute, and I'm getting into collecting. I just bought a piece that the Japanese artist Kishio Suga made in the '90s from a Tokyo gallery.
Is it pink?
No. I prefer tones of gray when it comes to art.
Lightning Round
Age: 25.
Born: São Paulo.
London neighborhood: Belgravia.
Favorite hangout: The Arts Club.
Favorite nightclub: Loulou's. Favorite store: Rellik. "It's a vintage store in West London; I recently got a 1940s kimono there."
Favorite TV show: The Killing.
Currently reading: 'Avant-garde' Art Groups in China, 1979–1989, by Paul Gladston.
*This article appears in the March 20, 2017, issue of New York Magazine.