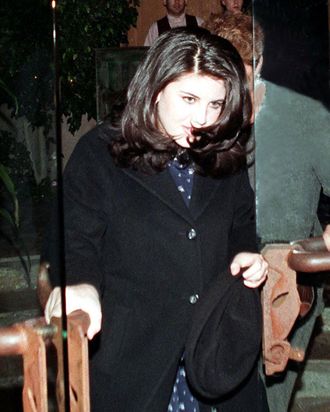 Monica Lewinsky.
Photo: FREDERICK BROWN/AFP/Getty Images
Close to two decades ago, Rachel Kramer-Bussel had a lesbian fantasy about Monica Lewinsky. So she wrote it into a short story, submitted it to an erotica anthology — and dropped out of law school to pursue erotic writing full-time.
Today, Kramer-Bussel has edited more than 60 books of erotica, and written even more. Her latest, Best Women's Erotica: Volume 2, is in stores now. This week on Sex Lives, Rachel tells me how she turned dirty daydreams into a career; the sexual fantasies that still surprise her; and some bonkers Donald Trump erotica that made me lose my mind.
Read or listen to the interview below, featuring a Lewinsky-erotica clip recorded by The Kiss Me Quick's Rose Carraway — and some mind-blowing Trump erotica, recorded by Sex Lives just for you.
This is a partial transcript from New York Magazine's Sex Lives podcast, edited for clarity and length.
How did erotica become your thing?
I feel like it kind of found me. I was in law school at NYU and I'd written, but not fiction. I'd always written nonfiction. But I was reading a lot of erotica and I saw a call for a book called Starfucker, which was about celebrities. I thought, "I want to do that." And at the time, this was '98, '99, I was following the Monica Lewinsky story. I wrote to the editor and I was like, "Can I write about Monica?" And she said, "yes." And I wrote a story called "Monica and Me," which was a fantasy about me and Monica Lewinsky, because I was kind of obsessed with her and did have a crush on her. I was fascinated by this idea — what if she was really gay or bi? What if she was into girls?
And that got picked up for Starfucker, and then also for Best Lesbian Erotica 2001. And that was my first story, so it was really exciting. It was right as I was leaving law school. I did not finish law school. I was a little unsure about the legality of writing about a famous person, even though other people were doing it. Because you know what if, theoretically, Monica sued me? To make a very long story short, many years later, I actually met someone who I dated through that story. She was a big fan of the story and of Monica, and then she wound up telling Monica about the story. I wasn't there, it was like she dropped off a note where Monica used to live. And I don't know what the note said, but Monica called her. Anyway, Monica, I guess, was okay with it.
Has writing erotica changed your sex life? Or changed the way you think of yourself romantically or sexually?
If it's changed my sex life, it's made me think about possibilities I could try. I'm not saying I've always tried them, yet, but certainly reading as much as I do to edit these books has given me ideas of what someone might do.
You must have an incredibly encyclopedic knowledge of all things that can happen during sex, or that one can fantasize about, given the quantity of these volumes you've edited, written, or read. What's surprised you?
My friend who writes about cheese and is a cheese expert also writes erotica. She writes for the trade journals, but she also works for cheese companies and goes to a trade shows. Cheese is kind of her life. I don't know she still has the site — it was called "Cheese Mistress" — but she once wrote a story and it was about a submissive having to lick some sort of stinky cheese off a dominant's boot. And she got so into it! What cheese is it was, and I think it was illegal cheese. You know, like, unpasteurized? And that was part of the domination, but you know, I read that and I thought, if you don't know that much about cheese — I mean, yes, maybe you could research — but it came across that she really knew what she was talking about.
That's amazing. I feel that there is a genre of person who, maybe like me, is not actually that submissive. But is like, "Wouldn't it be great if somebody forced me to … eat a really expensive cheese and it was delicious?"
And then I think to me that's fascinating. Because then you're using this role playing, or dominance and submission, to also do something beyond just the sexual.
I'm terrified of driving, I haven't driven a car for 15 years. I'm really scared of it. Any time I take a cab or Lyft, I talk to the drivers about, "Should I get my license? I'm really scared of it." Every time I think about getting lessons, I picture myself having an accident. So anyway, I wrote a story about a couple where the man forced the woman to learn how to drive. And she was so scared, but it was part of their kinky role playing. And obviously that was part of my own trying to get over my own fear.
Was it arousing to write that, or was it just scary the whole time?
I don't always literally get aroused while I'm writing, because I'm sort of in writing mode. I think I could get into that sexiness, but if someone tried it in real life, it wouldn't fly with me. Maybe it's for someone else. I think sometimes those kinds of relationships, they can be used both to eroticize your fantasies, but [they can also be] for personal development. There's something fascinating about voluntarily not having a choice. Whether it's to eat cheese, or to drive, or to be tied up to a cross or something.
Whoa. Is there crucifixion erotica?
No, the St. Andrew's cross. You know those X's?
Ohhh. The BDSM cross.
Yes, that cross. I don't know about the other kind.
Did I just betray my naivete? New idea: Jesus all naked on the cross, it's got to be hot to someone.
I'm sure it is, someone's going to tell you. I mean, I haven't read, like, all of erotica, but pretty much anything can be eroticized. And I think like if you can eroticize something that most people in general wouldn't find sexy, then you're going to have an edge over other people. Like, I think a lot of people, if you're writing about food, might write about chocolate or oysters or whatever. But how many people are writing about stinky cheese?