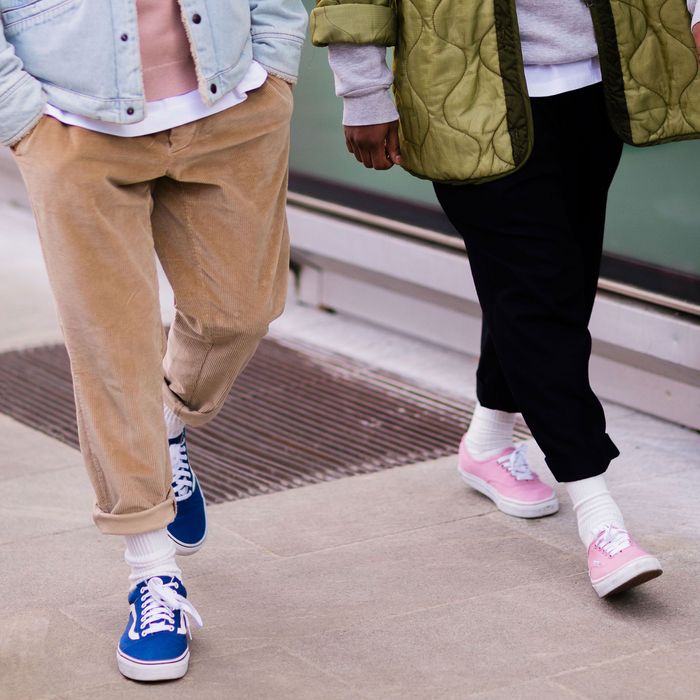 Photo: Nabile Quenum/Nabile Quenum
The black snow was piled high outside Five Leaves, the trendy restaurant that sits at the Williamsburg-Greenpoint border in Brooklyn, as a young, well-appointed brunch crowd sat in their sunglasses and oversized coats at outside tables, despite the 40-degree temperature. The hour-and-a-half wait didn't deter the crowd from gathering on a crisp March morning, in puffer jackets, Vans Old Skools, and cropped pants, heads in their phones and eager to shell out $12 for avocado toast. It's here that I first noticed it: Nearly all the scruffy servers were wearing Dickies. I chalked it up to being a uniform requirement or a necessity of the job, but that didn't explain the other half of the oddball style equation — many of the diners were also wearing the brand, too.
It was hardly an isolated incident. Further up the street, on Bedford Avenue, the traditional work pant was spotted again and again, hanging loosely from the hips of skaters whizzing by and on the waists of bearded dads carrying Whole Foods bags. Scruffy hipsters, urban lumberjacks, 2.0 workwear adherents, trend-chasing Vetements wannabes, and even post-normcore minimalists were all wearing the unassuming pants.
What gives?
Take Michael Baquerizo, for example, who, as a stylist for clients like Jack Spade, Steven Alan, and Nepenthes New York, has the means to buy just about any pair of pants he wants. And yet he chooses the classic 874 pant from the Fort Worth–based brand, a straight-cut pair made from no nonsense eight-ounce cotton twill, and which go for around 20 bucks on Amazon, where he buys them.
Baquerizo has started wearing Dickies in the past few years, for a few reasons. First, there's the fact that they're easy to come by and cheap. "I grew up in New York and New York kids have a tendency to want things that are produced in limited quantities," he says. Now, though, he wants something more readily available. "As I've gotten older, I'm attracted to things that are always being made and don't change." And then there's the fit. He likes that they have a higher-rise, that they're hard-wearing, and, perhaps most important, they're not skinny. "Slim feels a little bit outdated. I'm not a skater, but it's associated with skate style. It's just a looser, street thing, which I gravitate to."
The skinny look is out and denim is on the downswing, which, combined, makes this the perfect time for Dickies to be seen in a new light by a new audience. Add to that the recently exalted status of mass labels like Carhartt and Champion and you've got a perfect recipe for the humble brand's cultural ascendancy. Today, stylish guys on the streets of Brooklyn and Los Angeles are embracing Dickies' roomier fit, wider leg, and workwear backstory, making it an unexpected style hit.
"I like how they keep their shape, where other pants get mushy and wrinkled," says Marcus Manoogian, a producer for Vice. Manoogian started wearing them when he was a teenager, because they were cheap and stiff. "Most skaters don't have money growing up and it's an easy way to stay looking fresh." Today, he likes their versatility. "You can do a lot with Dickies. I like cutting them off for shorts and if you cuff them they stay in place," he says.
Opening Ceremony, the cool-kid downtown retailer, released a collaboration with the brand last month, where they took the classic 874 and made it in pinstripes, a witty play on workwear/businesswear. "I've been wearing Dickies all my life," says Humberto Leon, the store's co-founder and creative director. "Growing up in California, it's the pant that you wear." He is, in part, referring to the two major West Coast subcultures that have become synonymous with Dickies over the years: skaters and urban Chicanos known as "cholos."
At the end of the day, Mr. Leon is in the fashion business, and it's the fit that was key for this partnership. "The silhouette is right," he says. "It's the type of pant that we all wanted. It's moving away from the skinny pant, it's something straight off the body but not clownish. It's just a good, almost 'normal' fit, with a normal leg opening."
The mainstreaming of skater style plays a crucial part in the current Dickies mania. Skate is everywhere. Brands like Palace and Quartersnacks are carried at the high-concept store Dover Street Market, while skate culture is the foundation for brands like Palm Angels, Dim Mak, and Second/Layer. Thrasher hoodies as far as the eye can see. The sport was even given a weeklong celebration on Vogue's website.
Dickies also play into a blue-collar energy that's cresting in menswear, as when the designer Heron Preston collaborated on a collection with the Department of Sanitation, or Off-White designer Virgil Abloh's winking tow-truck printed T-shirts, or GQ Style's ode to construction worker style — even if it's hard to say with just how much irony this is all being deployed. "There's this increased utility in menswear," says Jian DeLeon, editorial director at the online lifestyle publication Highsnobiety. "The line between what they're wearing on a job site and on the street is increasingly … it's an uncanny valley."
But back to the pants: "The hook-and-bar closure, the high waist, it's hitting all the right '90s notes," says DeLeon, who was recently the menswear editor at the trend-forecasting agency WGSN. "In the same way that the hoodie and classic sportswear have become elevated, Dickies have literally become a canvas." In a time when Champion vies with Gucci as the logo du jour, and Vetements is selling co-branded Carhartt denim button-ups for $1,085 and Hanes tees for $310, Dickies is perfectly positioned as a highbrow/lowbrow bridge. "It's such a weird time in fashion," DeLeon says, noting that it's difficult to pinpoint the trend's origins. "We're not sure who watches the watchmen or where things start. It's like: This is a thing, we're not sure why it's a thing but we're going to roll with it."
There's a convergence of seemingly random elements that, when taken together, can explain how we arrived here. Skating is no longer some slacker pastime; now it's a romanticized sport, with dreamy Southern California undertones. "Growing up skating in the '90s you were kind of a loser, it wasn't popular like today," Manoogian notes. Then there's the fact that fits, in general, are moving away from the super-tailored to the more relaxed. Oversize is in and the 874 pant has been oversize since it was created, 50 years ago, regardless of trend. Then there's the nouveau-workwear energy that's been injected into the high-fashion world, where mass brands have gotten the ineffable patina of cool, thanks to a multitude of high-low collaborations and the exploding athleisure and streetwear markets. That they're happening simultaneously makes a curveball like this not only possible, but practically preordained.
Dickies loom large in the mind of the American public. They're privately held and family-owned, and are mostly known for providing occupational uniforms for chefs and factory workers. They don't need to pay much mind to a handful of stylish urban millennials fetishizing their classic pant style, which, as fate would have it, is celebrating its 50th anniversary this year. Those sorts of surges in popularity can't be manufactured, like the Birkenstocks craze of two summers ago.
"We consider ourselves a heritage workwear brand, we've been that way since 1922. We always stayed true and authentic to that position," says Michael Penn, senior vice-president of worldwide marketing at the brand. On the phone, he's a plain-talking man and makes it clear that fashion isn't Dickies' main priority, which, of course, only helps solidify their cool status. "There's an ebb and flow that has come from different cultures and tribes and people who have discovered, or rediscovered, the brand," he says.
Dickies is, at its core, a working person's brand, and has mostly just hummed along, doing its own thing, and allowed others to determine the cultural relevance of a pair of pants from the outside. Yet other collaborations over the years — with J.Crew, Supreme, and, currently, Urban Outfitters — indicate they aren't totally out of the loop. "I think the way the company notoriously approached it was, we're making workwear and if someone comes into our space and adopts it, like a skater, we let it be," Penn says. "But we realized there's a consumer like the skate community that really loves the product and embraces it and speaks to it in an authentic way, and we should listen to them and hear what they have to say," he says.
Perhaps the coolest thing about Dickies is how anti-fashion the brand is (DeLeon calls them the "anti-khaki"). There's a certain cachet in fashion circles in making a pair of Dickies look as good as, say, some designer pair of pants. If you spend a bunch of money on designer clothes, you'd better look good, or else what's the point? But if you can make a pair of humdrum uniform pants that you can buy on Amazon look like capital-F Fashion? Now that's cool. It's like how Manoogian remembers his childhood, that kids, especially skaters, wouldn't wear designer jeans — that was "for private-school kids." "You were much cooler if you went to Marshalls and found some acid-wash jeans or Dickies for 20 bucks," he says. "So oftentimes, ironically, it becomes cool because it's just what the youth are wearing and other people take notice."