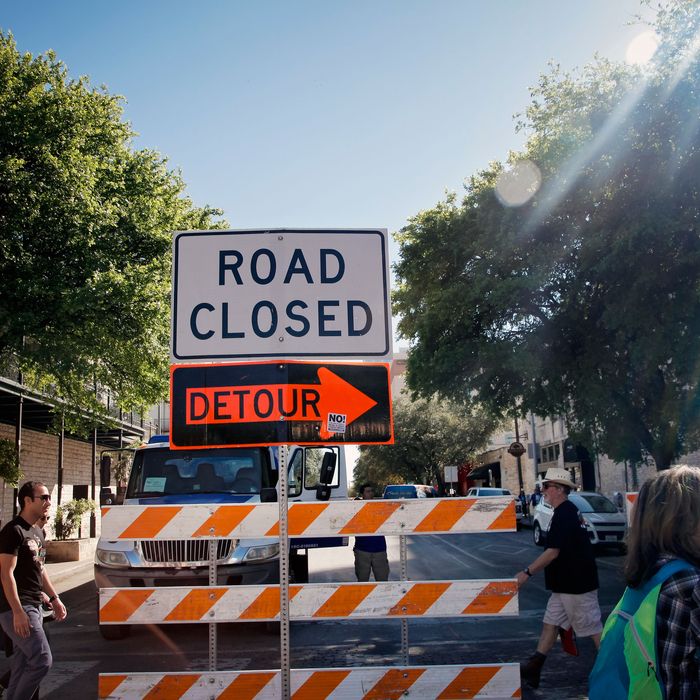 Austin, TX.
Photo: Tibrina Hobson/WireImage
Allegedly there are 2,000 bands playing at SXSW this year. This figure seems both unverifiable and indubitable: There are infinite bands.

I met Tkay Maidza, a singer from Australia, and asked her if the lineup made her feel competitive. We were sitting on the patio behind a house that had been converted into a bar, on a picnic bench, beside an Airstream trailer, which was serving a type of Frito-nacho food that was very good. "It happens quite a lot in Australia," Maidza said. "It will be a lot [of] friends who are on that same level." She was playing seven shows in five days, and had been in Austin for 24 hours when we spoke — she said it reminded her of home, expect for the "spooky" houses. When I saw her play later, there was a man in the crowd wearing an eye mask as a headband of sorts. The schedule is exhausting, and people must sleep their truth.
My current personal style also bespeaks a need for self-care. Tiger Balm is my cool SXSW signature scent. A bouncer with gauges the size of the void was checking my bag brusquely until he found the Tiger Balm, and now we are pals forever.
At a party, my college friend who made an important documentary movie nearly convinced RZA to come see it. She even gave him tickets. Ultimately, though, he did not come — we wondered if it was because they disagreed about whether Chef's Table was a good show. We were heartbroken. She then told me I had chilaquiles on my forehead, and that a cab was there to take her to the airport. She was my one true SXSW friend. Who will wipe chilaquiles from my face now? Time to move on: My new best friend is my external phone battery.

Never have I texted with so many numbers that require my phone to guess the name. Maybe Interscope Records is calling. Maybe Epitaph Records. Maybe Mark. Maybe Chloe. I watch a show with one such lovely person who does music relations. She asked if I was a photographer and I said no and she was pleased: "Artists hate to be photographed during South by. Everyone's day-drinking." She made the universal gesture for a puffy face.
A$AP Mob threw a party that required every attendee to wear a robe. For those who failed to anticipate this requirement, "robes will be available to buy or rent at the door." I received another, more disturbing invitation to an indoor pool party that promised to provide the swimsuits.
Fortunately, I located a revitalizing and soothing VR demonstration in a small exhibit in a hotel called "NeuroSpeculative AfroFeminism," run by Hyphen Labs. The theme of the experience fused a beauty salon with neuroscience, creating a realm "where black women are the pioneers of brain modulation, embedding electrodes into extensions and braiding techniques." The three goddesses I meet on my VR journey tell me, "You're free from the constraints placed on you, in reality." This felt nice.
I called upon this new sense of tranquility later, when I needed to soothe a new acquaintance from Austin named Mike. Mike was embarrassed by how much he wanted to see Third Eye Blind. Nostalgia-band programming makes a hard rivalry with the new acts: The Pretenders or PWR BTTM? It's like choosing between the bathroom stall that doesn't lock or the one at the end that straight-up doesn't have a door — you know the answer, but you wish you didn't have to decide yourself. In the end, though, it's not so bad. I even successfully avoided promising to see Mike's noise band when they are in New York.