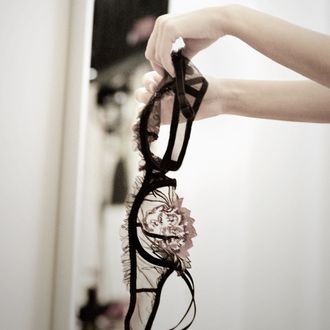 Get Sex Diaries delivered every week.
New York's Sex Diaries series asks anonymous city dwellers to record a week in their sex lives — with comic, tragic, often sexy, and always revealing results. This week, a new-to-NYC blogger working it at a Purim party: 31, straight, single, East Village.
DAY ONE
10 a.m. My first client presentation for my new job is in an hour. Slept terribly and feel like crap. My usual irrational fears set in: that it will be a disaster and I won't have a job this time next week. Trying to breathe and focus on the date I have later on.
I moved from London to New York about a year and a half ago because I think it's the most incredible, stimulating city in the world. I have an American passport — I'm a dual U.K.–U.S. citizen — which made the move a little easier. A few months before moving, I broke up with a serious boyfriend, and before that, I had two other serious relationships. New York's the first time I've been wholly single for a while.
12 p.m. My presentation's over and it went better than great. I'm the happiest woman alive. I want to go to sleep and go drinking right now.
4 p.m. Major energy crash. I head home to the East Village for a critical pre-date power nap.
7:20 p.m. Emerge from my apartment a new woman. Wearing a black leather miniskirt, booties, and a low-cut sweater. I even put "chicken fillets" in my push-up bra for extra oomph.
7:40 p.m. I'm late as usual. Tom is waiting at the bar. We met on Bumble; it's our second date. He looks smart in jeans and a blue, bicep-hugging shirt, and he's playing chess on his phone. I've been a chess geek forever. Surely, this is a sign.
8:30 p.m. Dinner's going fabulously. He let me order for us (bonus points), and we're sharing ricotta ravioli, truffle-crusted salmon, wine, and laughs — he's funnier than I remember. I tell him I write an anonymous lifestyle/dating blog and it doesn't faze him.
9:30 p.m. He offers to walk me to Fat Cat, where I'm about to meet my British friends from back home. Before he leaves we make out on the street. It's a promising kiss, and leaves me wanting more.
11 p.m. Fat Cat is awesome: hot men, fun games, chilled vibe, and quality jazz. The downside: no hard liquor (but the soju cocktails are strong).
2 a.m. Falling asleep on my friend's shoulder while eating loose cashews from the bottom of my purse. Time to go home.
DAY TWO
12 p.m. Hungover and knackered, but my out-of-town friends persuade me to meet them at the Cliffs at LIC climbing wall. I take an Uber there. As I cross the bridge, I recall my New Year's resolution to start saving money. Maybe I'll subway home. (I won't.)
1 p.m. I perk up — turns out a lot of gorgeous men climb.
3 p.m. Tom messages and asks me out again. I tell him next Saturday works, and he suggests we see a show and get drinks. I'm down.
7 p.m. Getting a bouncy blowout for a big night out with friends, and possibly some action. Wearing skintight ripped jeans, a black drop-waist top, and red lipstick.
8 p.m. Consume biscuits, fried chicken, and waffles at the amazing Root & Bone (we went for the family-style menu). We have post-feast cocktails there, for digestive purposes.
10 p.m. In our third bar of the night, Boulton & Watt, drinking games commence. Feeling conscious that I've now mixed Champagne, vodka, whisky, tequila, and gin.
2 a.m. Dancing hard at Home Sweet Home under a shiny disco ball, but not an eligible guy in sight. Are they all in hiding?
3:30 a.m. Head to the bar Good Night Sonny's alone, in search of a cute guy settling his tab at the end of the night. Nada.
DAY THREE
12 p.m. Still in bed. Drafting a post for my blog about the female orgasm and struggling to find the name of my favorite sex position. It's kind of a cross between spooning and scissoring.
1 p.m. I get a text from a hot Colombian barman named Sebastian. He and I have been messaging since I left him my number last summer. He asks what I'm up to, and I explain the search.
1:10 p.m. He beats me to it and finds a pic of the position in question. Feeling wild, I make the move and suggest he come over. He is sexy, I trust him, and blog-writing isn't going very well with my hangover.
2 p.m. I manically tidy my apartment, and minor nerves kick in. I hope I fancy him sober, and that he's a good kisser.
4 p.m. He turns up looking cute as hell in a backward baseball cap. The first couple minutes are slightly awkward, but soon we're on the couch joking around.
4:30 p.m. He finally grabs me and I straddle him on the couch. The first kiss is passionate and wet, in a good way. We relocate to the bedroom and he leans me over the bed, puts his hand down my jeans, and starts rubbing my clit. Yes.
At some point my legs buckle, and he starts going down on me on the bed, with the perfect pressure and tongue flick. He asks me to sit on his face, so of course I oblige. Within a minute I orgasm, and it's fucking heavenly.
5 p.m. I enthusiastically return the oral favor, and then we have sex. I don't come again (I rarely do from sex alone), but I love every second.
6.30 p.m. He leaves to meet friends for dinner, after a final steamy kiss and grope by the door.
DAY FOUR
11 a.m. I text Sebastian from the office to tell him what a good time I had, and he agrees. Kind of wish he'd say something more, but I just assume he's leaving it in my hands.
12 p.m. Confirm details for my Bumble date tonight, with Kevin from Hoboken. I normally swipe left on Hoboken dwellers, as I hate the word Hoboken and have no intention of visiting, but this one slipped through the net. I'm breaking all my first-date rules, and we're going to a concert.
7 p.m. Arrive at the Rye House to meet my date. I know immediately I'm not attracted to him, despite him looking like his picture. It gets worse when I catch a whiff of his sour breath. Shit. We drink whiskey cocktails and make small talk, but I'm already bored.
8 p.m. Disaster strikes. Turns out the concert doesn't start until 10 p.m. If he hadn't already bought my ticket, I would have 100 percent bailed.
9 p.m. Beer is helping, marginally. We're waiting for the support band, who are running late, and talk about our morning commutes. It's so, so painful.
10:10 p.m. J. D. McPherson and band finally appear, and I want to kiss their feet. They are freaking amazing: upbeat, retro vibes. I get into it and dance the whole time.
11 p.m. Kevin keeps twist-dancing into my left leg and I keep edging away, until eventually we're at the wall. I do everything I can to give off nonsexual vibes.
Midnight I peck him good-bye on the cheek and fly into an Uber. He texts immediately to ask to see me again. I write a polite response telling him it's not gonna happen.
DAY FIVE
10 a.m. At work, daydreaming about Sebastian. I wonder if he's thought about me since?
1:30 p.m. Check my internet dating apps for the first time all week. I send a few Happn messages, but I'm feeling picky and disinterested.
2 p.m. My mother messages from Florida, trying to fix me up with her hairdresser's Jewish son, who she describes as a teddy bear. I stalk him on Facebook and am not impressed. She can't believe that in a city of one million Jews, I don't seem to be dating any.
3:30 p.m. Lock down Saturday-night date with Tom: We're going to see comedy.
7 p.m. Head to dinner with friends at Café Medi and am grateful for a date-free evening. I don't drink despite everyone else knocking back the cocktails.
DAY SIX
8:45 a.m. On time for work and feel like a million bucks since I didn't drink last night.
1 p.m. Tom from Bumble surprises me and asks for a pre-date coffee date tomorrow. I provisionally agree.
3 p.m. Sebastian finally texts and calls me "bae," which I love. We agree to hang out again.
7 p.m. At a tailoring appointment to alter my bridesmaid dress for my sister's wedding, I get lumped with a $195 bill. I may be getting ripped off, but I don't have time to shop around now.
9 p.m. Spend the rest of International Women's Day evening watching This Is Us on the couch with my housemate.
11 p.m. I consider using my vibrator before bed, but this week's been so tiring I don't have the strength.
DAY SEVEN
9:30 a.m. Slept amazingly and feel on top of the world as I stroll to work in sunny Manhattan.
3:30 p.m. Quick makeup refresh before I head to my coffee date with Tom. I don't see him, so I head to the back and neurotically check my pocket mirror for smudged makeup. Of course at that precise moment he walks out of the bathroom and right into me. I hastily throw the mirror into my purse, but he totally saw.
3:40 p.m. I tell him the hot chocolate here is meant to be insane. He gets one, even though I think he wanted coffee. I order chamomile tea. It's the first thing he's let me pay for, and it's the least I can do after the lovely dinner he treated me to. I think it's fair to take turns, especially when my turn is only $7.
4:30 p.m. As we say good-bye on Fifth Avenue, he goes in for a kiss. I'm smiling as I head back to the office, with my sugar and date high.
7 p.m. Getting ready for a Jewish UJA Purim party at VNYL Club because, ultimately, I'd quite like to end up with a Jewish hubby. I went last year and it was definitely one of the better singles events. This year the theme is Masquerade Chic.
9.30 p.m. Walk to the club with my friends Rachel and Natalia, only to find out the party ends at 10! This works to our advantage, though — we don't have to pay, and everyone is still there.
9:40 p.m. Straight to the bar and within two minutes a shortish, bearded Jew who works in real estate is hitting on me. He uses the line "I find dark-haired women with accents interesting — can I take you out some time?" I give him my number, but should have given him the heads-up that being interesting can't be inferred from hair color.
10 p.m. I'm dancing with the girls when I spy the hottest guy in the room at the bar. I'm such a sucker for a pretty face. Turns out he's also the drunkest guy in the room. He's trying to buy a drink with his driver's license, barely able to string a sentence together, and swaying. He tells me I'm beautiful.
I could ghost, but he's gorgeous, and maybe this behavior is a one-off? I want to find out. It takes him a while to get the PIN right on his phone, but when he does, I text myself from it.
11 p.m. My friends and I head downstairs. A tall blonde guy, who turns out to be Russian-Jewish, asks me who I'm checking out. I'm not immediately attracted to him, but he seems superbright and says he's just finished writing a romance novel. I'm intrigued and give him my number.
Midnight We decide to leave on a high. It's been a productive evening! And an eventful dating week, to say the least.
Get Sex Diaries delivered every week.
Want to submit a sex diary? Email sexdiaries@nymag.com and tell us a little about yourself.