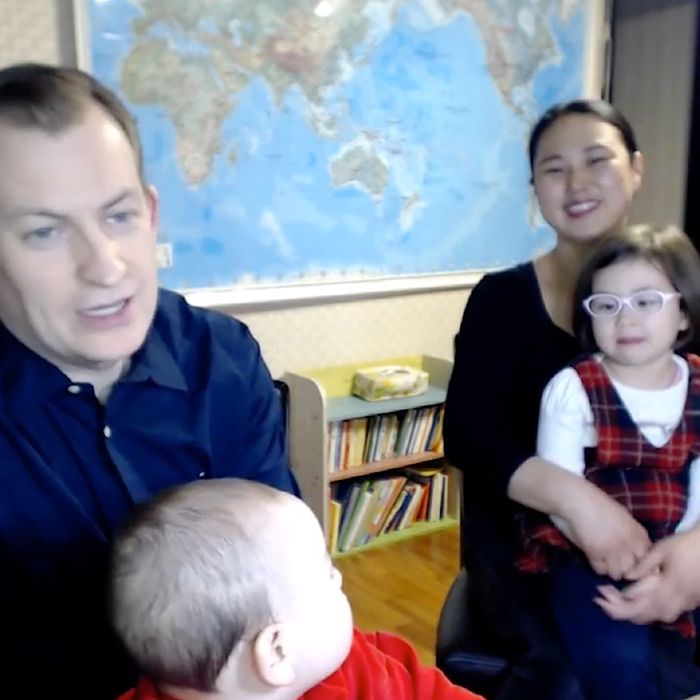 Robert Kelly, Kim Jung-A, and their children, James and Marion.
Photo: Courtesy of WSJ
Last week, a toddler strutted into a room and left a viral video sensation. The clip in question featured Robert Kelly's live interview with BBC World News being hilariously interrupted by his children before they're dragged out by his wife — and now, Kelly and his family have given an interview to The Wall Street Journal explaining exactly happened.

You can see it here:
Kelly — who lives in Busan, South Korea, with wife Kim Jung-A and their daughter Marion, 4, and son James, 8 months — had been giving several interviews that day about the South Korean president's impeachment. In this case, the rest of the family had been watching him on the TV in their living room as he conducted the interview in his office. "He usually locks the door," Kim explained.
But he didn't, and we all know what happened next:

As the interview began, the couple's 4-year-old daughter Marion jumped up and down at the sight of her father on the screen. Perhaps recognizing his location, a room at the end of the hallway, she wandered off to find him. She was in high spirits after enjoying her birthday party earlier that day at kindergarten, her father says.

Kelly says Marion was in a "hippity-hoppity mood" because of the party and that he found the situation "terribly cute." As for Kim, she said, "Most of the time they come back to me after they find the locked door. But they didn't. And then I saw the door was open. It was chaos for me."

There was plenty of commentary and theories on the original video clip almost immediately. Notably, some speculated that Kelly was unable to get up and do anything because he was wearing business clothes out of the camera frame but something less appropriate on the bottom — and yes, this interview confirmed that he was just wearing jeans.