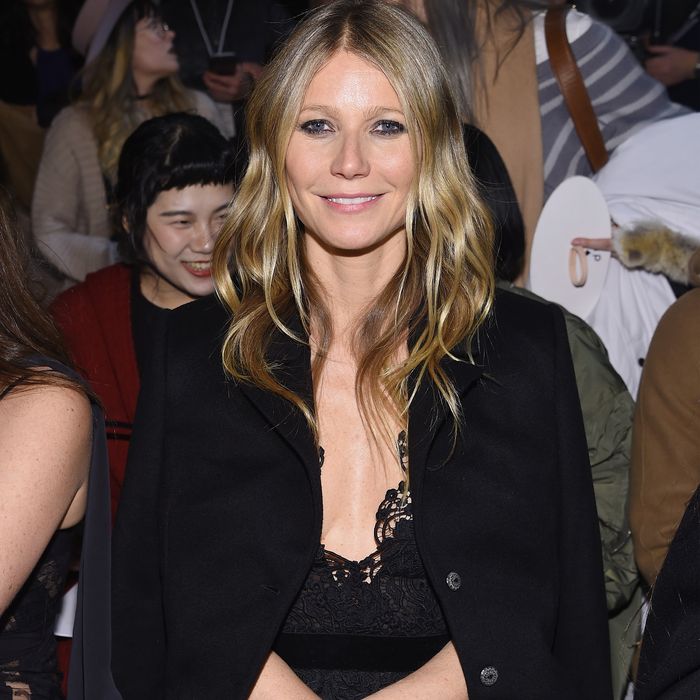 Gwyneth Paltrow.
Photo: Dimitrios Kambouris/Getty Images for La Perla
Gwyneth Paltrow's Goop — the lifestyle site that, if sentient, would constantly be complaining about how cold it is — recently released their second annual sex issue, which includes a guide for how to have casual sex, a Q&A about anal sex, and a $795 couple's massager for sale.
But, much like last year, they neglected to publish the ultimate Goop guide to lovemaking, which looks something like this:
1. Drink a glass of lemon water.
2. Follow that with nothing but raw goats' milk for a week.
3. Do a 15-minute Tracy Anderson workout.
4. Give your old friend William Joel a call.
5. Do another Tracy Anderson workout.
6. Put this jade egg in your vagina for 30 minutes. Pass the time by visualizing a world without gluten to get you in the mood.
7. Steam your vagina (Important!!! Take the egg out first).
8. Make "sex bark" and eat all six servings at once
9. Rehearse your safe word: Pilates. Pilates. Pilates.
10. DO ANOTHER TRACY ANDERSON WORKOUT.
11. Exchange exactly one closed-mouth kiss with your partner