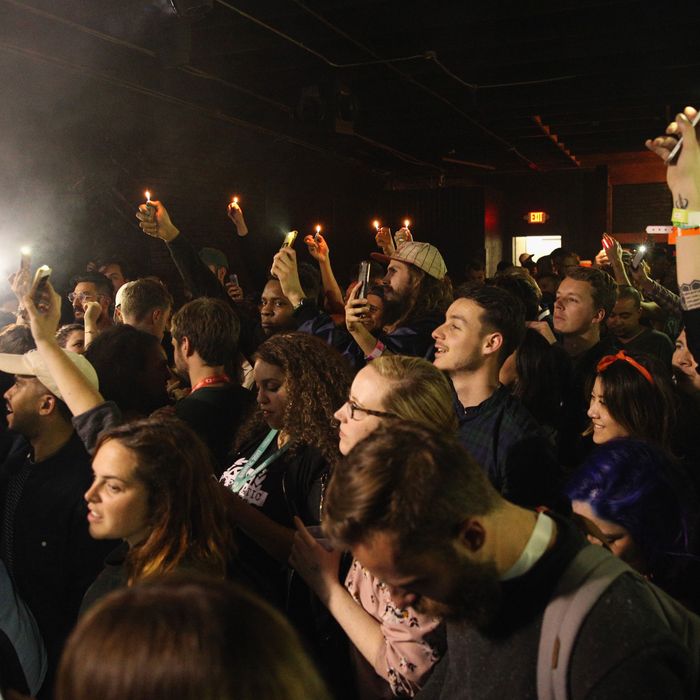 Photo: Steve Rogers Photography/Getty Images for SXSW
Who's that girl who smells like Tiger Balm with a slim heating pad stuck to her neck, which she has failed to hide below her tank top? It's me, Maggie, reporting from the Fifth Day of SXSW, my shoulders sore from straining to see the stage past tall men in hats.
Here at SXSW, people have quickly learned to mess with the audience-Q&A app Slido. It projects audience questions to the side of the stage during festival panels. I talk to one guy who was watching his co-workers give a talk — he kept using the Slido to ask if they wanted to get drinks later. Audience members can up-vote the best questions; however, that handy feature did not stop the speakers at Monday's FBI panel on technology from ignoring all the top Slido questions (about having a president who doesn't understand technology, and about whether they'd ever seek a "golden key" to user data from companies like Apple).

Later, Kesha gave a talk with Refinery29 that was ostensibly about the internet, but this topic was quickly abandoned in favor of eclectic anecdotes. For example: She had her birthday a few days ago, and "on the day I turned 30 I was on a safari and I saw two lions having sex and I was like, my 30s are going to be dope." She also said that she had learned that "Kesha" means "party all night" in Swahili, though she admitted she hadn't fact-checked it. She wore a luxe baroque-cowgirl getup — a pale-blue suit with sparkling fringe, and a pink silk shirt that looked like how Linda Ronstadt's voice sounds — and said that she wanted to return to her country roots on her next album.

Everywhere the beer was free and the lines were long. Perhaps things were more crowded than usual thanks to all the blizzard-cancelled flights out of Austin — a reverse snow-bound situation. Because of one long line, I became acquainted with a man named Josh, who was wearing a hat that I liked. We engaged in a series of polite disagreements about music, wherein he told me that Pitchfork has been the most prominent music-journalism magazine since the 1960s (I believed it was Rolling Stone), and that they have thrown a music festival in Chicago for 30 years (I believed it was Lollapalooza), and that he saw Fred Armisen's band headline there two years ago and did not enjoy them (that was Sleater-Kinney, and a fun way to remember this fact is that they have a song called "Fred Armisen is Not In Our Band ft. Corin Tucker").
Often the events at the ends of the huge lines were faux-secret and suspiciously underpopulated. One party required that we look for a special neon sign, then go around the alley and into a parking lot and up some stairs. It turned out the front door of this party worked perfectly: We took it when we left. While we were there, I met two men who were going up to women and announcing they had "an art project." The art project involved taking Snapchats of women kissing them. While I saw other potential muses shoo these men away efficiently, I felt like I had time to harangue them until they backed away, telling me I had misunderstood their art project.
I eventually met someone knowledgeable about the ways of secret parties — someone who organizes them — and asked her to tell me the best way to get into them. She gave me a trick that didn't work on my first try, but I'm still guarding it jealously and won't tell you what it is. See you at the next one!