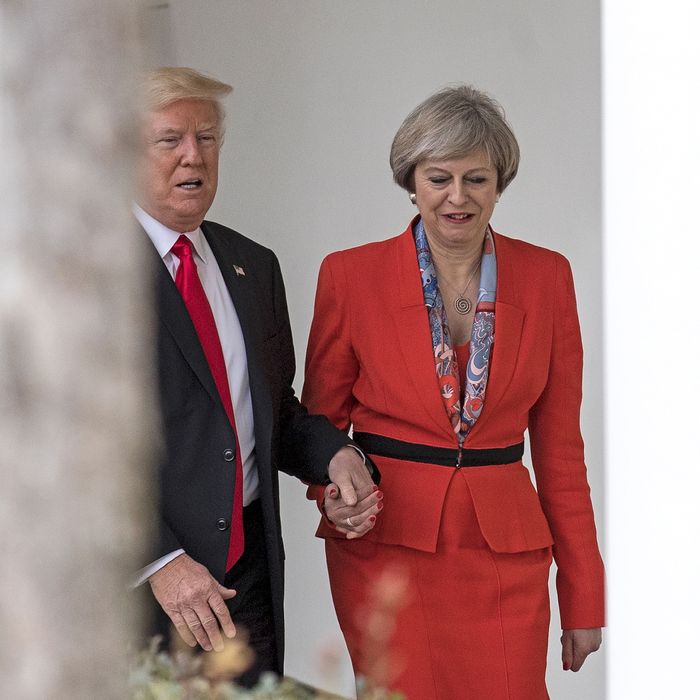 Theresa May and Donald Trump have a "special" relationship.
Photo: Christopher Furlong/Getty Images
Theresa May and Donald Trump both praised their "special relationship" during the British prime minister's first trip to Washington, and shortly afterward, the two were spotted holding hands as they walked along a colonnade outside the White House. And although May later commented on the size of Trump's hands — "I don't think I have received such a big hand since I walked down the colonnade at the White House," she said at a reception for Tory donors — she never actually explained how one of them ended up in hers.
Luckily, Vogue asked the penetrating question in its profile of May, published Monday. When asked about her conversation with the president, May replied, "We don't comment on private conversations that take place. All I would say is, I've been very clear: I'm not afraid to raise issues. And the nature of the relationship is such that we should be able to be frank and open with each other." And then, the big reveal:
So open, indeed, that they held hands outside the White House—an image that quickly went round the world. "I think he was actually being a gentleman," May says, laughing off this gesture. "We were about to walk down a ramp, and he said it might be a bit awkward."
So, no, it wasn't because the president of the United States is afraid of stairs. Good to have that cleared up.