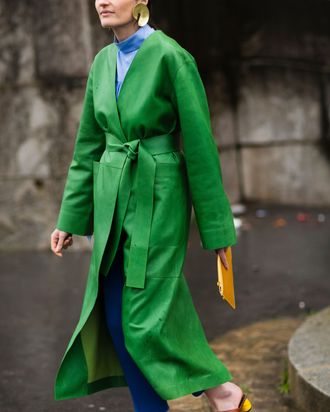 Irina Linovich.
Photo: Nabile Quenum
Stepping off the curb and into the rainy street, Irina Linovich wears an unconventional color palette. While a cornflower-blue turtleneck top under a bright-green trench coat paired with brown, yellow-heeled Balenciaga mules may sound unsuccessful on paper, Linovich manages to make the color combo both beautiful and weird.
She added a slim yellow clutch and, following the current street-style trend, large gold earrings. The overall effect is a put-together ensemble that looks sophisticated without resorting to traditional all-black.