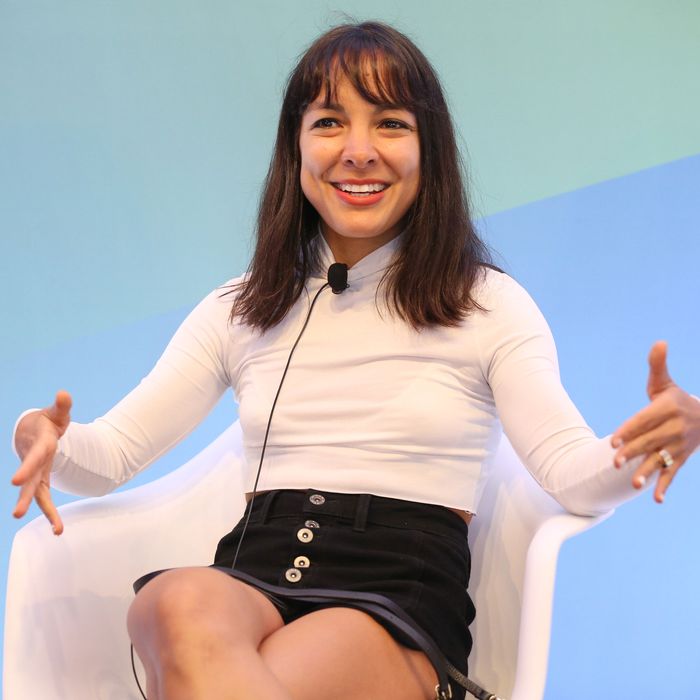 Miki Agrawal.
Photo: Robin Marchant/Getty Images for Advertising Week New York
Miki Agrawal, co-founder of the period-underwear brand Thinx, came forward for the first time to publicly address recent allegations against her and the company.
On Tuesday, Racked published an extensive piece that featured numerous ex-employees claiming that Agrawal had behaved inappropriately, and that the company had paltry benefits: One employee said she couldn't afford birth control and the maternity leave was short, while others still said they were shut down during salary negotiations. There was a stark difference from how the (female-run, majority-female-employed) company positioned itself in the world — as "feminist" — versus how it reportedly treated its employees.
This all came shortly after Jezebel first reported that Agrawal had stepped down as CEO, though she denied it at the time to the Cut and said she was staying on as "She-EO." In a piece published on Medium on Friday titled "MY THINX RIDE," Agrawal confirms that she's stepped away from the company, along with discussing HR issues. (Thinx, for their part, posted a vague "note to our community" on their blog, though CNN reports that the company has also canceled their SXSW lineup.)
While she doesn't respond to the claims directly, Agrawal chalks it all up to human-resources issues — namely, that there was nobody handling HR:
One problem area throughout our start-up's story and no different to many in our position: human resources. I didn't take time to think through it. We grew so quickly and I didn't hire an HR person (it was hard to rationalize hiring an HR person at the time with only 15 employees and then all of a sudden we were 30 people). I didn't call references because I needed butts in seats fast. I didn't put HR practices in place because I was on the road speaking, doing press, brand partnerships, editing all of the creative and shouting from the rooftops about THINX so we can keep going.

All of a sudden, health insurance, vacation days, benefits and maternity leave were brought up (at the time we didn't have any pregnant women on the team unlike now where we have 3, including me! :-)) and when you're a start-up and you're growing and moving so fast (remember, we've only really hit this crazy growth period 18 months ago), to sit down and get an HR person and think about those things were left to the bottom of the pile of things to get done.
Along with a lack of HR presence, Agrawal says she didn't have a senior management team in place either. Alas, she seems determined to — you guessed it — "learn and grow" from this situation.
"You should have gotten 100% of everything right the whole time Miki. How dare you." It's SO easy to find fault and complain about what people didn't get and the things I lacked and I certainly admit wholeheartedly that I don't have it all. No question. And yes, you can make a bulleted list of every misstep I've ever made (go for it), but what I am calling all of this is an opportunity to learn and grow.
"Ps. Probs a good time to share my favorite quote by Teddy Roosevelt," Agrawal ends the post before amending a lengthy quote by Roosevelt to make it menstruation-themed. It reads, in part: "The credit belongs to the (wo)man who is actually in the arena, whose face is marred by dust and sweat and (period) blood."