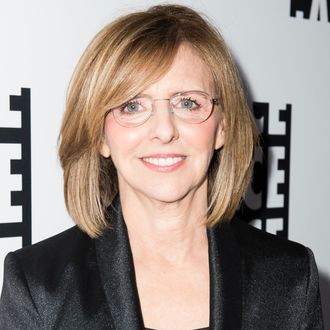 Photo: Emma McIntyre/Getty Images
More than any other director working in Hollywood (or, honestly, any other human with eyes), Nancy Meyers knows a good interior when she sees one. Her movies (It's Complicated, The Holiday, Something's Gotta Give) are fairy tales starring artfully bedraggled women and the subway-tile backsplashes that make them happy. In a move that is stunningly on brand, today Meyer's stainless steel–loving eye spotted a good kitchen as she sat in traffic. The director was so busy ogling the image of a kitchen on the side of a truck that she almost got into an accident, according to her Instagram:
That fridge! Those cabinets! Congratulations are in order for everyone at Santa Monica–based appliance store Snyder Diamond. Interior queen Nancy Meyers saw one of your kitchens, and she was impressed.