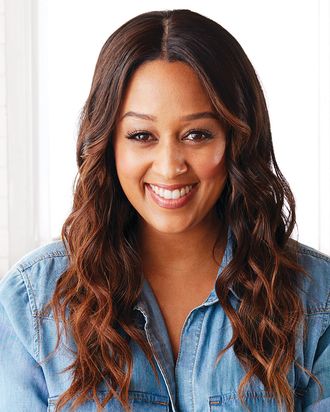 Tia Mowry.
Photo: Jennifer Davick
Many of us grew up watching Tia Mowry on Sister Sister, in which she starred opposite her own twin sister, Tamera Mowry, as twin sisters conveniently named Tia and Tamera. So while her name's been etched in our brains for most of our lives, she's now made a new name for herself as the host of the popular Cooking Channel show, Tia Mowry at Home. This month, Mowry also released a new healthy cookbook called Whole New You. The Cut recently caught up with Mowry to hear about her go-to healthy snacks, love of hip-hop yoga, and her secret to good skin.
How I start my mornings: I wake up at the buttcrack of dawn — 6 a.m. — because my son loves to come into the room, and he's like an alarm clock. He's almost 6 now, so he's a pretty big boy and he weighs almost 60 pounds, but he always jumps on me. He likes to lay on Mama. He's been doing this ever since he was a baby. I always say, I wish that you continue to do this, even in your 40s. You will always be my little baby. My husband, Cory, is always the last one to get up.
I make everybody breakfast in the morning. My son absolutely loves blueberry pancakes, so I'll go ahead make him some of those with eggs and some chicken apple sausage (my son loves to eat — he eats like an adult). Sometimes I'll even make a smoothie bowl or just smoothies — that's my husband's favorite. He loves the frozen banana and pineapple smoothie I make with coconut milk, and I add some oatmeal and nuts on there, with some pineapple and some coconut shavings. If it's a school day, I'll get my son ready for school and drop him off, and come back home to meditate with my husband. We meditate every morning and every night. Next, I get ready. Sometimes that's taking a shower; sometimes that's getting in the bathtub and just winding down — taking care of myself a little bit.
Wellness, to me, is: taking back your life. Wellness is a sense of power, it really is. It's a sense of getting in control of your life.
How I sweat: Right now, I'm really, really into yoga. Because my work can be hectic — being an actor, being a working mom, I wear all these hats — I needed to find a workout that didn't get me all riled up and stressed. I needed a workout to decompress myself. There's this really cool yoga spot, it's a new workout that I just picked up and really love, called Y7 Studio. It's not like they're traditional yoga — they play hip-hop music. Sometimes what I find in a lot of yoga classes, you see people being competitive and there's a whole other vibe. But at Y7, there are no mirrors so you really get into your own zone and your own practice. It's like a dance class, so they'll teach you the vinyasa flow and then they'll turn the music up really loud, and you can go at your own pace. So you can add whatever you want to your flow, you can take away whatever you want from your flow.
On skin care: I'm really into working from the inside out. A lot of people focus on what they apply on their face, but I'm all about, what are you eating? What are you putting in your body? So number one, water. I drink lots and lots of water. I used to not like to drink water, but now I throw some stevia in it — it has zero calories and there are many different flavors at Whole Foods, whether that's root beer or vanilla — and it makes your water sweet. And number two, eat well. Berries have loads of antioxidants that help get rid of toxins in the body, and leave you with great skin.
In regards to applying stuff on my skin, I always like a really, really good moisturizer, and anything that has vitamin C in it is freaking unbelievable. Vitamin C is an antioxidant so it helps get rid of impurities and keeps the skin really vibrant. I'll do a nice scrub with vitamin C to give my skin a smooth and even tone, and then I'll go ahead and put the moisturizer on. I do use a SPF, too. But at night, after I wash my face, I use my secret weapon: Kiehl's Midnight Recovery Concentrate. It has a lot of essential oils in it, and is like an elixir. And my gosh, after putting this stuff on my face, even my sister was like, Oh my god, what are you doing with your skin? It's amazing.
The wellness secret my sister and I share: I truly, truly feel that when you're happy, it comes from within. You see it all over you. I think that's something that maybe my sister and I share, in the sense of staying true to who we are and doing what makes you happy. When you do that, whether that means you need to go out dancing on a Friday night or whether that's spending more time with the family, we really share that perspective in life, and I really do think that keeps you youthful, that keeps you feeling great, that keeps you looking great.
How changing my diet helped my endometriosis: One of the main reasons that I changed my diet was because of endometriosis. After having two surgeries and seeing my doctor, he was like, if you don't want to have a third surgery and you want to have a baby, you're going to have to change your diet. Before that, when I heard about going to a nutritionist, I thought it was because you wanted to lose weight. But here I was, in my late 20s and I didn't want to lose weight, so I was like, what is going on here? Then I met with my nutritionist and she told me about how we stay away from certain foods to help get rid of inflammation in the body, and one of the symptoms of endometriosis is having inflammation in your uterus, which causes lots of pain and infertility.
So, I went to the nutritionist specifically for that, but I found that when I started to change the way I ate, other ailments that I had started to dissipate, too. One of them was migraines, and to this day, knock on wood, I have not had migraines. My nutritionist was telling me that a lot of migraines are caused by inflammation and certain foods like dairy can trigger migraines. When I started taking dairy out of my diet, not only did my migraines go away, but my eczema also started to go away. It was pretty mind-blowing to me.
My go-to healthy snack: Smoothie bowls are this huge phenomenon, but guess what? You don't have to pay $20. You can make it yourself at home. You just need some bananas and peanut butter and a little bit of coconut milk and unsweetened cocoa powder, some nibs, some nuts, and you've got yourself an incredible smoothie bowl. They're so versatile — you could also do one with strawberry, mango, coconut shavings, whatever. So that's one, and another one is popcorn. I love popcorn, and you can get popcorn now made with olive oil as opposed to butter. I also have a cool recipe where you can make a vegan, dairy-free Parmesan cheese — it's just nutritional yeast with garlic powder, salt and cashews, that's it — so you can just get a dairy-free popcorn with olive oil and you can throw that on top, and it's so good.
This interview has been edited and condensed.