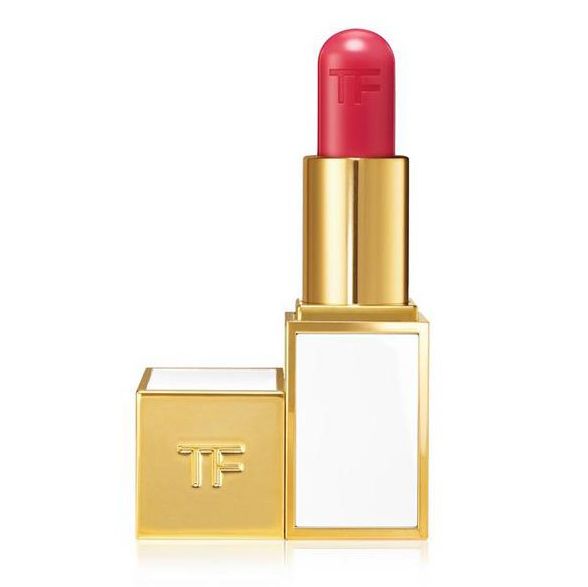 Tom Ford Clutch-Size Lip Balm.
The arc of Tom Ford's six-year history in beauty is lined with ludicrously expensive trinkets. Brow gel, for example, runs for $48; sunscreen costs $74. An inexpensive product is essentially verboten at the luxury beauty house, which makes the brand's rare miniature-sized offerings plum bait for label snobs on a budget. The Tom Ford Lips & Boys lipstick miniatures are one example of this (the same smooth, creamy formula found in the full-size lipstick is used in Lips & Boys for a fraction of the price), and the brand's new tiny tinted lip balms are another.
Part of the 2017 Summer Soleil collection (available while supplies last), Tom Ford's mini lip balms are thumb-drive-size cousins to the brand's bigger $55 Moisturecore Lip Colors and the now-discontinued Lip and Cheek Stain. (These are sheerer than Moisturecore lipsticks, but more hydrating than the Lip and Cheek Stains.) There are six colors to choose from: a soft coral (L'Odissea), a bright tangerine (Neotropic), an electric pink (Cruising), a punch-like pink (Pure Shores), a true red (Fathom), and what you might call Tom Ford's version of Chanel's cult color, Vamp (La Piscine). Judging on price-per-ounce, the clutch-size balms are more affordable than Tom Ford's standard lipsticks ($55 for .1 ounce versus $36 for .07 ounces).
What's smart about these lip balms is that they deposit a tiny tint to lips, in addition to a kingly dose of moisture and mirror-like shine. So let's say you want to pull off an easy-going look for work that doesn't appear too fussy, or the stark opacity of traditional lipstick is too overwhelming for your casual, Saturday afternoon makeup — Tom Ford's lip balm is your best bet. Bereft of the tackiness that plagues most lip glosses, but replete with moisturizing emollients that keep lips soft for hours, it is the perfect accompaniment to a makeup look that's simultaneously practical and pretty. And because it's Tom Ford, the lip balm arrives is in a sleek, gold-trimmed white tub that you'll want to show off. It's a status symbol, after all — never mind that it's one of the cheapest Tom Ford offerings to date.
If you buy something through our links, New York may earn an affiliate commission.