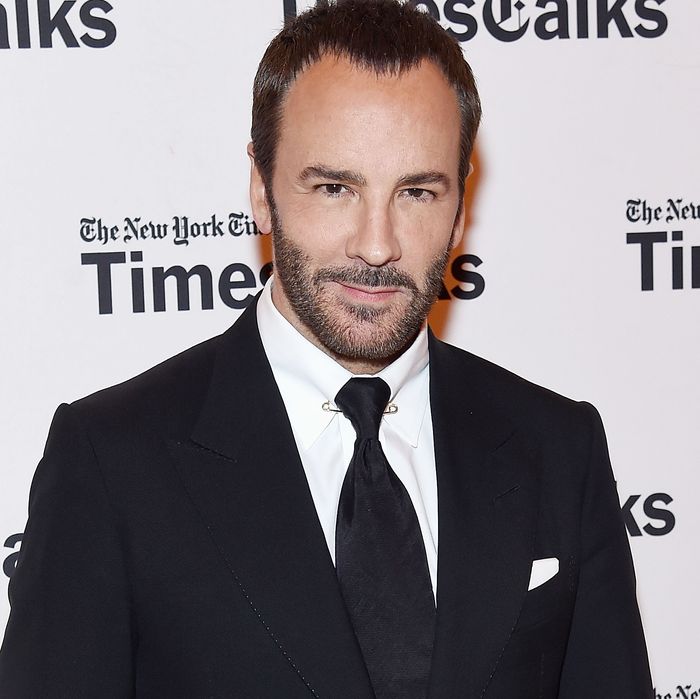 Tom Ford.
Photo: Jamie McCarthy/Getty Images
Tom Ford ate four Dunkin' Donuts for breakfast yesterday. That confession opens the designer's new interview with Women's Wear Daily, in the wake of some big changes for his brand. (He claims the breakfast is a daily thing for him, by the way — apparently he's switched his brand loyalty from Hostess Donettes.)

Ford, who has been based in London for many years, is moving back to the United States — specifically Los Angeles, where he'll be working out of the building that housed Hedi Slimane's design studio and living in Betsy Bloomingdale's former mansion. The designer has moved around on the fashion calendar, showing in London, New York, and L.A. in the past couple of years, but he's now committing to New York Fashion Week for women's and will continue to show menswear in Milan.

You might think the election results would have steered Ford, who has been outspoken about his feelings toward Trump, away from a return to his home country. (The ill feeling is mutual.) That is not the case. "Oddly, it made me want to come back even more," he told WWD.
We have a tremendous number of people in this country who feel disenfranchised and clearly we are not relating to or speaking to them. I am at my core American, and it made me want to come back. It didn't make me want to run away.

I think when you sense that there is a divide in your country and that there are people who perhaps you're not relating to, and that those of us who are fortunate enough to live in a world of very liberal human rights and privilege, it's a wake-up call that we're not addressing a big part of the country that does feel disenfranchised. It made me feel more nationalistic, if anything. The whole country is not like New York and L.A. and the world that I am used to living in.
Another shift for Ford? He's abandoning the see-now-buy-now model he tried out last season, laying the blame on the retail schedule for the foundering of the concept. (This may be the beginning of a trend — Thakoon, who had also adopted a see-now-buy-now model, said this week that he's putting his brand on "pause" to rethink his process.) "You can't have a show with clothes that have been on the selling floor for a month," Ford says. Still, the 55-year-old designer sounds optimistic overall. "I'm my own muse," he says. "On a good day, I can look 45."