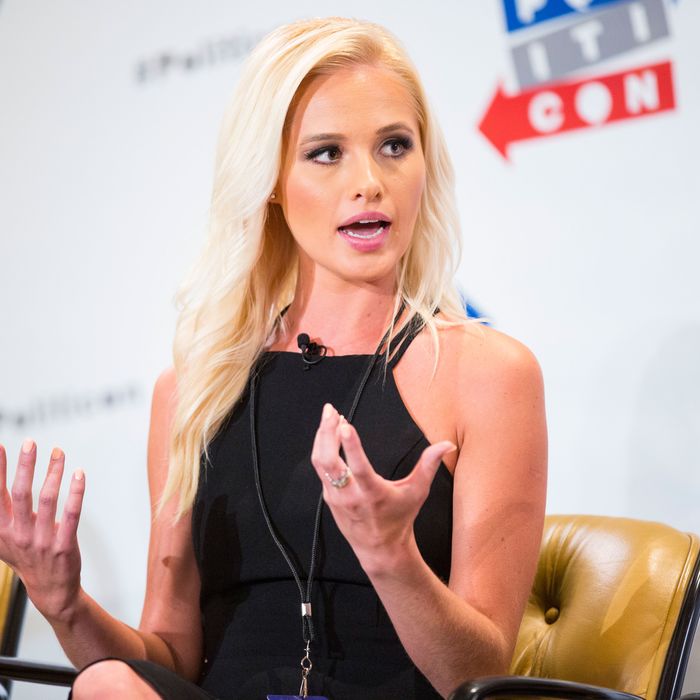 Tomi Lahren won't appear on the Blaze for at least a week.
Photo: Colin Young-Wolff/Invision/AP
Conservative pundit Tomi Lahren's show has been suspended from its network, the Blaze, "for at least one week," according to multiple sources. Lahren recently appeared on The View, where she championed Donald Trump and talked about representing middle America — but she also explained why she's pro-choice. "I am someone that's for limited government," she said. "So I can't sit here and be a hypocrite and say I'm for limited government, but I think the government should decide what women should do with their bodies."
Her comments didn't sit well with her conservative audience, and on Saturday she defended herself on Twitter, saying she'd "never apologize" for "being an independent thinker." But Lahren's boss, Glenn Beck, wasn't about to let things go — on Monday he called Lahren a "hypocrite" and issued the thinly veiled threat that "bomb-throwing in today's world is dangerous" and "can destroy people."
Two sources told the Daily Beast that the Blaze's managing editor, Leon Wolf, sent around an email to staff saying Lahren's show would "not be in production this week." Wolf confirmed he'd sent the email, and said he "wanted to let Blaze employees know before they heard about it elsewhere." It's unclear whether the suspension is directly related to her View appearance.
According to the Daily Caller, Lahren's contract with the Blaze goes until September, but "she may leave the company before then." The Caller adds that her name has been "floated" for a possible Fox News gig.