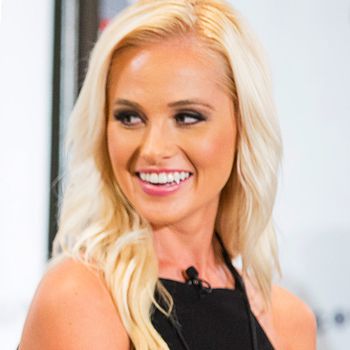 Donald Trump and Tomi Lahren.
Photo: Getty Images, AP
Most times President Trump mentions the media, it's to blast them on Twitter or during press conferences. He is, however, an unabashed fan of Fox News — and reportedly made a phone call to offer up personal praise to Tomi Lahren after she appeared on the network.
Lahren, 24, is a wildly popular and controversial conservative pundit who hosts her own show, Tomi, on Glenn Beck's network, the Blaze. She went on Hannity on February 7 to regurgitate her unapologetically right-wing schtick: She talked about how much she hates political correctness, the so-called "intolerant left," and the "mainstream media" (air quotes on the latter hers). In particular, she discussed her support of Donald Trump, calling him "a president that's actually keeping his election promises, a president that's actually being proactive to bring jobs back, to protect our national security." She added, "I'm amazed by it."
"He called and said, 'Thank you for your fair coverage of me,'" Lahren told the Washingtonian, estimating that their phone call lasted for 10 to 15 minutes.
He also apparently had more to thank her for:
Beyond thanking her for her comments on Hannity, Lahren says that the President lauded her commentary on her own show leading up to the election. "I did a lot of work during the campaign that went viral," Lahren says, including such segments as her defense of Trump amid the fallout of the Access Hollywood tape. In her estimate, those videos were persuasive for "apprehensive voters."
Big day for Tammy.