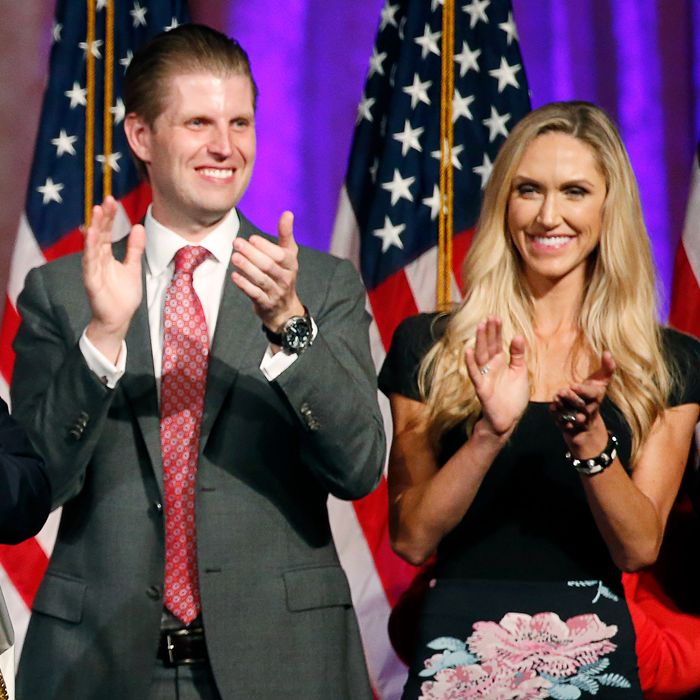 Donald couldn't keep a secret.
Photo: RHONA WISE/AFP/Getty Images
President Donald Trump gets excited about lots of things — things like JOBS! JOBS! JOBS! and the "amazing support" at Trump rallies and honking the horn on big trucks. And according to an interview Eric Trump and his wife, Lara, did with Fox & Friends on Tuesday morning, the president was just as excited about becoming a grandfather for the ninth time. In fact, he was so excited that he spoiled the couple's birth announcement.
Eric told Fox that they broke the news of the pregnancy to their family at the White House on Inauguration Day. "What was amazing was how excited my father was," Eric said. "He was on cloud nine. He saw Lara at the big event a few weeks ago in Tennessee, and she went out to introduce him and before, he goes, 'Lara, it's a boy! I can't wait! It's a boy!'"
"He told everyone in the room, and I was like, 'We haven't told anyone yet!'" Lara said. But she added that the president "couldn't help it."
Eric then shared a story about his dad driving around one of his golf clubs with his five other grandchildren "hanging off the golf cart." "He's a really great grandfather," Eric concluded.