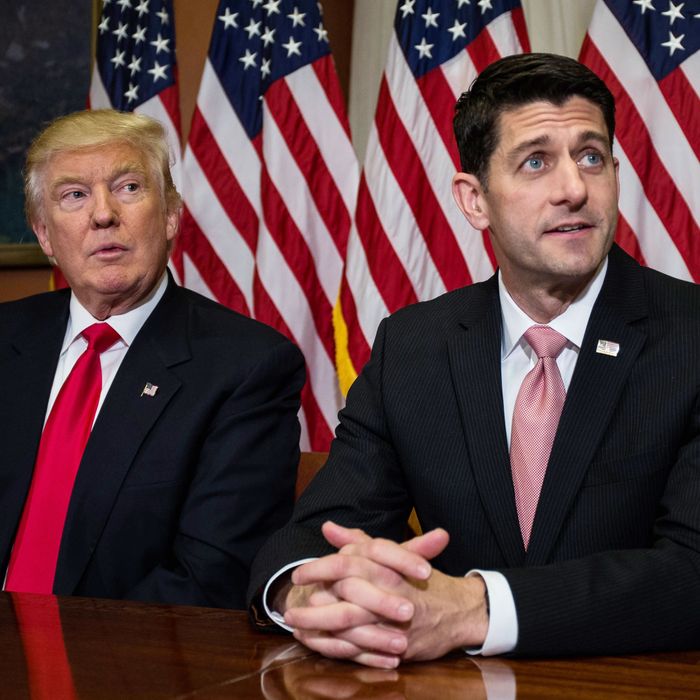 Donald Trump and Paul Ryan could ensure men don't have to pay for prenatal care after all!
Photo: Zach Gibson/Getty Images
During a hearing on the American Health Care Act earlier this month, Representative John Shimkus voiced one of the most common beefs conservatives have with Obamacare. When asked what "mandates" in Obamacare he "take[s] issue with," Shimkus replied, "What about men having to purchase prenatal care?"
Shimkus was referring to the essential health benefits that, according to the Affordable Care Act, must be covered by insurers as part of any health plan; one of those essential benefits is pregnancy, maternity, and newborn care. But, according to a Politico report, Republicans are making last-minute changes to the AHCA to try to win over far-right conservatives. And one of those changes is nixing the coverage requirement for maternity care.
In fact, the new proposal would reportedly eliminate ten essential benefits, allowing healthy people to buy plans with skimpier coverage and driving up the cost for things Republicans consider "luxuries."
But there's a good reason Obamacare required insurance companies to cover maternity care. Before Obamacare, women who unexpectedly became pregnant would be surprised to find their insurance plans didn't include maternity care. Then, when they tried to change plans, their insurance would treat their pregnancy as a preexisting condition and deny them coverage. In other words, Obamacare included maternity care as an essential health benefit to keep insurance companies from discriminating against women.
Republicans have always hated the requirements because they interfere with the free-market function of insurance — i.e., people's ability to choose what coverage they think they need. But Republican sources told Politico that when they wrote the first draft of the bill to repeal Obamacare in 2015, they left the requirements alone. That's because they plan to pass the AHCA as a budget-reconciliation bill, meaning anything that's not directly related to the budget — such as taking away essential health benefits — would have to be stripped out according to Senate rules.
But a conversation Senator Mike Lee had with the Senate parliamentarian seemed to indicate that those rules may no longer apply. Thus, getting rid of essential health benefit requirements could be fair game, making women's health care an ostensible bargaining chip.