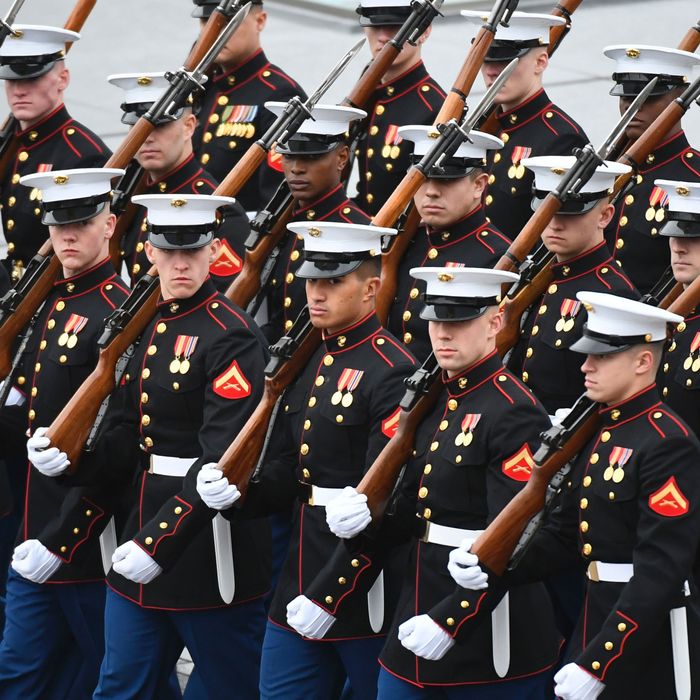 Hundreds of U.S. Marines are under investigation for sharing nude photos of women.
Photo: AFP/AFP/Getty Images
Last week, news broke that the Defense Department was investigating a Facebook group called "Marines United" for sharing hundreds — and possibly thousands — of nude photos of active female military members, as well as other unidentifiable women.
More than 30,000 active-duty and retired male Marines, Navy Corpsman, and British Royal Marines followed the group, and members posted obscene comments about the women pictured, officials told the Associated Press. At least two dozen women photographed were identified by their full name, rank, and military duty station.
You'd think the national attention would be enough to quash the group, but according to new reports, members who abandoned "Marines United" are simply posting elsewhere. Almost immediately after the story broke, members split off to form "Marines United 2.0," which reportedly has more than 3,000 members, and "Marines United 3.0," which has more than 200.
In a post in "Marines United 2.0," an administrator railed against "snitches" and said the story should never have gained national attention:
I'm only gonna say this shit once so all of you fucks pay close goddamn attention. If you add the fuck that snitches… I will blast you on every goddamn page from here to fucking the sandbox and back. Understand this: I will not accept a request until I can see that the person has served. If they haven't, DON'T FUCKING ADD THEM!!! If you see someone and know they are a fucking snitch, let an admin know. This shit should have never made it to the national fucking news.
Other, smaller offshoot groups have also formed, according to the Daily Beast. They have memberships ranging anywhere from the single digits to 500 users and are also posting the same types of photos and links found in the original "Marines United" group.
On Friday, Secretary of Defense James Mattis, himself a retired Marine general, called the groups "egregious violations of the fundamental values we uphold." He went on, "Lack of respect for the dignity and humanity of fellow members of the Department of Defense is unacceptable and counter to unit cohesion. We will not excuse or tolerate such behavior if we are to uphold our values and maintain our ability to defeat the enemy on the battlefield."
Marine Commandant Robert Neller is scheduled to appear before the Senate and House Armed Services Committees on Tuesday to update them on the ongoing investigation.