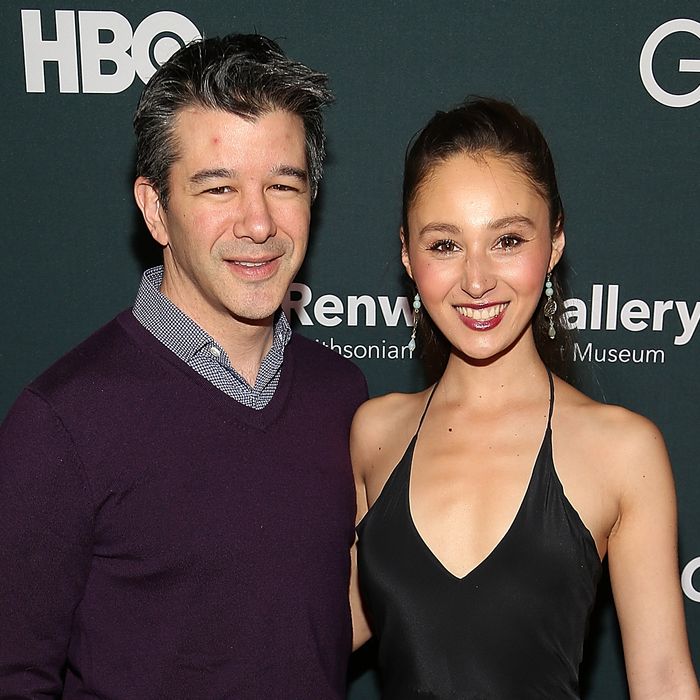 Travis Kalanick and Gabi Holzwarth.
Photo: Paul Morigi/Getty Images for Google
Looks like former Uber president Jeff Jones quit just in time to avoid the latest scandal to hit the Silicon Valley moneymaker. Professional violinist Gabi Holzwarth, the ex-girlfriend of Uber CEO Travis Kalanick, told the Information that in 2014 she accompanied Kalanick and five Uber employees to an "escort-karaoke bar" in Seoul, South Korea. Four of the men present — including executive Emil Michael — picked a woman by number to sit with. The outing resulted in a complaint to human resources a year later by one of the female employees present, according to Holzwarth. The Information reports that Holzwarth discussed the complaint with Kalanick and separately with the woman via instant message.
Engadget reports:
[I]n the last month Michael contacted Holzwarth in an attempt to stop the trip from becoming public knowledge, telling her to simply say they went to karaoke and had a good time. His statement, which is quoted in the article, reads: "Given the intense news cycle I thought it was the right thing to do to reach out and let her know that reporters may try to contact her directly. I have known her for a long time, consider her a friend and did not want her to be taken by surprise. Her recollection of this conversation was different from mine and I am very sorry if the purpose of my call was misunderstood."
Uber stated in response, "This all happened about three years ago and was previously reported to human resources. In early March it was referred to Eric Holder and Tammy Albarran as part of their review."
In February, a former Uber engineer wrote extensively about her experiences working for the company, describing a dysfunctional environment where sexual harassment was ignored and covered up by managers and HR.