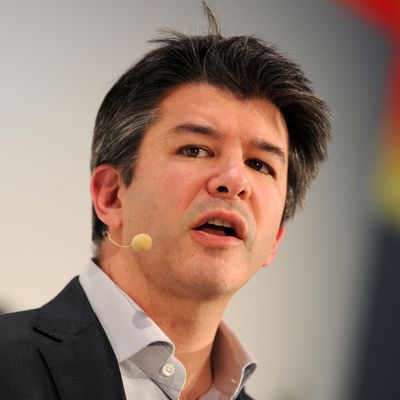 Travis Kalanick
Photo: TOBIAS HASE/AFP/Getty Images
Ever since engineer Susan Fowler came forward with a tell-all blog post alleging the rampant gender discrimination she experienced during her year at the company, Uber has been trying to fix the problem of its internal culture (or, at least, fix its sexist image). The company launched an independent review to investigate Fowler's claims. CEO Travis Kalanick held a lengthy call with over 100 female engineers and listened to them describe sexism as a "systemic problem." But despite the company's best efforts — which have repeatedly been hindered by Uber's string of incredibly bad press — Kalanick and his compatriots have yet to right the ride-hailing ship. As evidenced by one tone-deaf conversation between a female engineer and an Uber recruiter earlier this year.
From Uber, via Taylor's Twitter:
Kamilah Taylor is a senior software engineer who, quite literally, wrote the book on women in technology. (It's called, fittingly, Women in Tech.) When an Uber recruiter reached out to her on LinkedIn, Taylor let them know she had "no interest" in coming to work for the company, citing Uber's "questionable business practices and sexism." Nevertheless, the recruiter persisted, and when fellow female engineer Julie Ann Horvath (who you might remember as the woman who vocally quit her job at GitHub after she was harassed by one of the company's founders and his wife) tweeted that she and her colleagues have known about Uber's dark side for years, Taylor replied with screenshots of her conversation with Uber.
I just want to say that sexism is systemic in tech and other industries," the hiring manager wrote. "I've met some of the most inspiring people here. We have many ladyeng [tech speak for lady engineers] who are passionate about making the workplace more just and inclusive for women. … That said, I agree we have lots to do.
Taylor told Mic she found the recruiter's comments to be "tone deaf," calling them "positive PR spin." (Though somebody should probably tip Uber off that insisting everywhere, not just your company, is a bad place to work as a woman isn't a great tactic.)
Of course, it's a recruiter's job to defend the company they're working for. But Uber's reputation is going to make it difficult to hire. It's not just seasoned engineers like Horvath and Taylor who don't want to work for Uber. "I know many people, like my sister for instance, who's applying for schools," Taylor told Mic. "And her friends, they're computer science undergrads, and they're looking at [Uber's reportedly problematic culture] like, 'We're not going to apply to Uber — this seems terrible.'"
Taylor's revelation comes alongside news that Kalanick and five Uber employees visited an "escort-karaoke bar" in Seoul, South Korea, back in 2014. The story was confirmed by Kalanick's ex-girlfriend, professional violinist Gabi Holzwarth, who was also in attendance. One of the female employees involved reported the outing to HR. "This all happened about three years ago and was previously reported to human resources," Uber said in a statement. "In early March it was referred to Eric Holder and Tammy Albarran as part of their review."
Okay, so Uber's culture is a major problem. But at least the tech still works, right? Well … In other not-so-great Uber news, the company is putting its autonomous-car testing on hold in Arizona after an accident. (The company moved its autonomous-car testing from California to Arizona after Uber reportedly refused to comply with the state DMV's permit requirement.) Testing in Pittsburgh, where Uber runs a research facility, has also been halted, Bloomberg reports.
The accident, according to Tempe police, was not the Uber vehicle's fault. Instead, the other car involved failed to stop, causing the Uber vehicle to flip over. "There was a person behind the wheel [of Uber's vehicle]," Tempe police officer Josie Montenegro told Bloomberg. "It is uncertain at this time if they were controlling the vehicle at the time of the collision." No word on when testing will resume again.