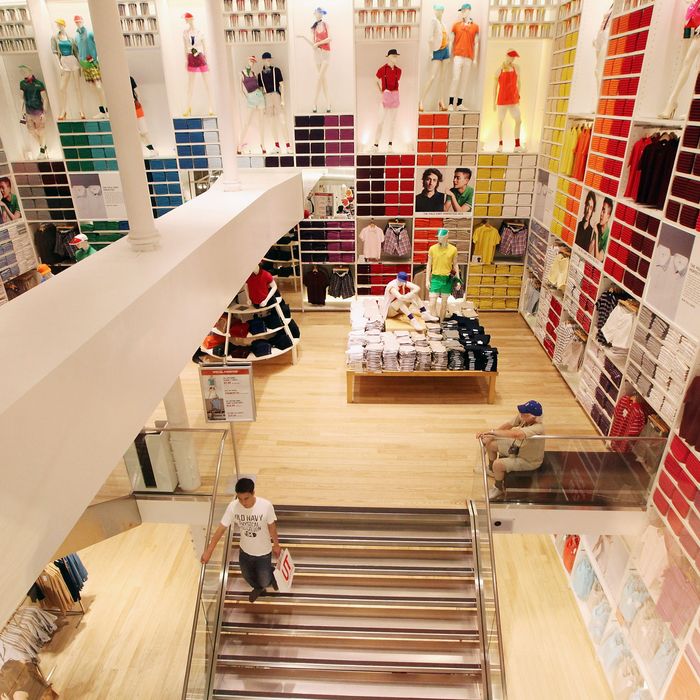 Uniqlo.
Photo: Mario Tama/Getty Images
Uniqlo's parent company has threatened to pull the Japanese fashion chain from the U.S. if President Donald Trump continues to insist all of its clothes be made in America, CNN Money reports.
Trump campaigned with a promise to revive U.S. manufacturing, and has been pushing a "buy American, hire American" economic message — much to the chagrin of Japanese billionaire Tadashi Yanai, the head of Uniqlo's parent company, Fast Retailing Co. Per CNN Money:
"If I was directly told to do so, I will withdraw from the United States," Yanai told Japanese newspaper The Asahi Shimbun this week when he was asked about Trump's Made in the U.S.A. push.
The retailer — with its surprisingly inexpensive cashmere — has 51 stores in the U.S. at the moment, with plans to open at least 20 more stores stateside in the next year. However, Yanai is keeping a close eye on what decisions Trump and Congress make on trade, and has said that he doesn't want to see tax on foreign imports to the U.S., arguing that a tariff would increase costs and ultimately hurt consumers.
"We would not be able to make really good products [in the U.S.] at costs that are beneficial to customers," Yanai said in the Japanese news report. "It would become meaningless to do business in the U.S."
A spokesperson for Uniqlo told CNN Money that the company will continue to "stay true to our core business values of offering the highest quality apparel at accessible prices."