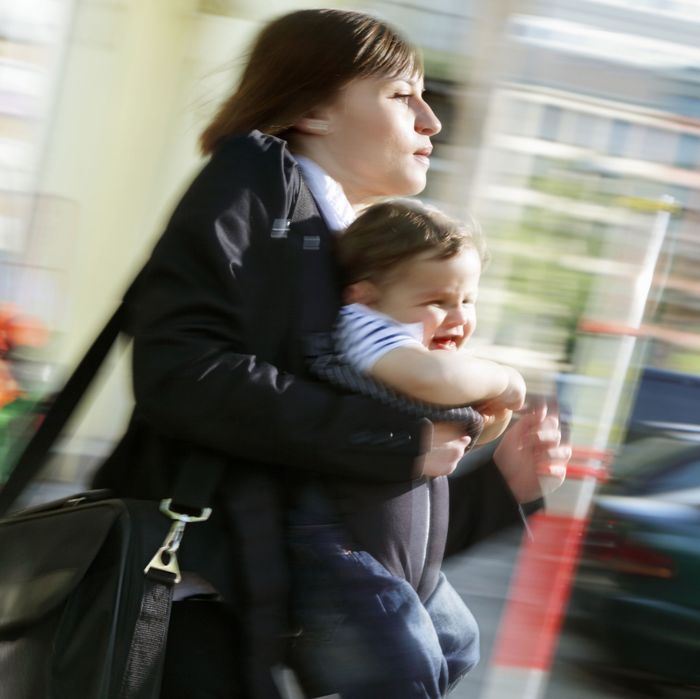 Photo: mammamaart/Getty Images/Vetta
Yesterday, Philadelphia magazine reported that the headquarters of Urban Outfitters has decided to do away with a flexible-time option that working parents depend on. Currently, UO headquarters employees can choose to work from 8 a.m. to 5 p.m. instead of the company's standard office hours of 9 a.m. to 6 p.m. But, according to company emails obtained by Philadelphia, management has decided to end this option. Employees who say they will see their children less as a result are particularly upset.
All employees will now be required to work the standard hours, and have 30 days to adjust to the new policy. As Philadelphia points out, leaving at 5 p.m. "made it possible for [parents] to get their kids from day care before the common 6 p.m. closing time" and gave parents more time with their children before putting them to sleep.
Understandably, many day cares impose fines when parents pick up their kids past closing time (my son's charges $10 for every 15 minutes of care past 6 p.m.). Parents rush to pick up their children to avoid financial repercussions like these and to respect child-care workers' time, as well as to spend time with their kids. One Urban Outfitters employee told Philadelphia magazine she currently has an hour with her baby after work; the new policy, she says, will reduce that time to 20 minutes.
Urban Outfitters hasn't exactly been known to respect its employees' time or ability to plan around child care. As recently as 2015, the brand used on-call scheduling, requiring retail employees to be available but not guaranteeing paid work. After receiving a letter from the New York Attorney General, UO said it would end on-call scheduling and ensure employees had schedules a week — a single week — in advance.
One UO employee who spoke to Philadelphia says a manager claimed she was paid sufficiently to afford any extra child care required by the schedule shift. Perhaps most perplexing is the reason employees say this woman spoke to her manager to begin with: "All of them claim that Urban Outfitters does not have a human resources department."
Philadelphia's post does not mention whether fathers have come forward to describe the impact of the scheduling change, but describe the headquarters' working mothers as feeling it is discriminatory toward them. According to one, "Some of us are already looking for new jobs."
Update: Urban Outfitters contacted the Cut with a statement. Read it in full below.
As a company with an entrepreneurial mindset and diverse talent pool, we realize that a one-size-fits-all approach to scheduling is not always the best fit for our teams. That is why URBN does not have an across-the-board standard work day nor did we eliminate a flex time policy. Instead, what works best for our company's culture is to encourage managers and employees to work together to meet the needs of the business while striving for work-life balance. We learned recently that a handful of employees in a specific department had concerns on how best to meet the respective challenges of their business and family needs under this model. We listened to them and are working together to find a way to address their concerns while moving the business forward. We greatly value employee feedback and are always looking at ways to improve and ensure a positive work environment.