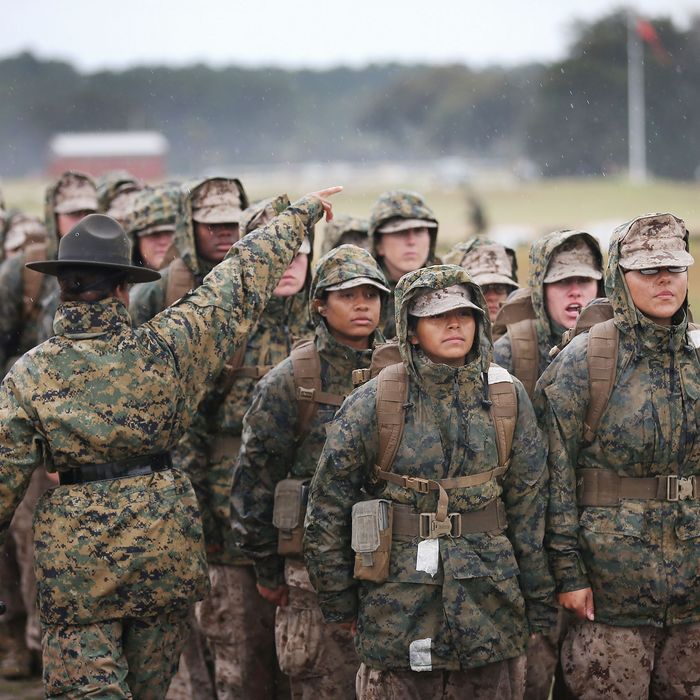 Photo: Scott Olson/Getty Images
The military has launched an investigation into reports that male Marines have been sharing nude photos of female service members and vets in a secret Facebook group.
According to the Center for Investigative Reporting,
Since Jan. 30, more than two dozen women — many on active duty, including officers and enlisted service members — have been identified by their rank, full name and military duty station in photographs posted and linked to from a private Facebook page.

In one instance, a woman corporal in uniform was followed at Camp Lejeune in North Carolina by a fellow Marine, who surreptitiously photographed her as she picked up her gear. Those photographs were posted online in the Facebook group "Marines United," which has nearly 30,000 followers, drawing dozens of obscene comments.
One official told CBS News, "Whoever runs it kept moving it, making it hard to even find what the scope of it was."
The official added, "People will immediately start blaming victims, and we are most concerned about them. They may have taken pics meant to be private and then those images could have been shared by a former close friend. So many questions that we just don't have answers to at this point."
Veteran and Purple Heart recipient Thomas Brennan first posted about the Facebook group on his site the War Horse; he claims "hundreds of Marines" are being investigated in the matter. He told the Marine Corps Times that angry users put a "bounty on pictures of my daughter," adding, "It has been suggested that my wife should be raped as a result of this, and people are openly suggesting I should be killed … Can you imagine being one of the victims?"