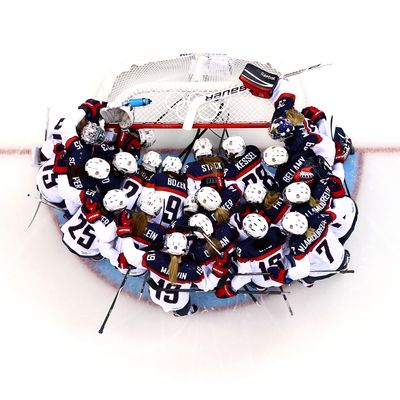 The U.S. women's national hockey team.
Photo: Martin Rose/Getty Images
On Tuesday evening, negotiations between the U.S. women's national hockey team and USA Hockey, the governing body of the sport in the States, came to a close after almost a full year. The players had long been asking for fair compensation, better publicity for women's hockey, and development for youth teams — and threatened a boycott of the IIHF world championship this Friday if a deal wasn't made. After days of meetings, the team announced Tuesday night that they would be competing in Plymouth, Michigan, to defend their championship title. The women had prevailed. They'd won the fight.
The terms of the deal are not all public, though it has been reported that the players will now receive a $2,000 training stipend year-round from the U.S. Olympic Committee, as well as performance bonuses and a pool of shared prize money. Estimates put the players' annual salaries at above $70,000 a year, an enormous increase from the $6,000 players were awarded once every four years. In addition, USA Hockey has committed to providing programming, marketing, promotion, and fundraising to better develop the sport of women's hockey in America. The team's captain, Meghan Duggan, told the Cut over the phone that the deal was "a huge step for women's hockey and women's sports in general." Like Billie Jean King's 1973 boycott of the U.S. Open, what the women's hockey team accomplished on Tuesday cannot be understated. And it will no doubt set a precedent for further battles for equal pay, in women's sports and beyond.
Next time — and there will be a next time — men need to be ready to fight, too.
On Sunday, it was reported that the U.S. men's hockey team had said they would stand with the women by sitting out of their world championship games as well. At that point, USA Hockey had been considering using replacement players in the women's championship, some of whom were reportedly being recruited from high-school leagues. While the men's games don't begin until May, if the reports of their alliance with the women players were true, the male players would have been presented with an opportunity to walk the walk: Would they be willing to go out on the line for the women who, in many cases, they grew up playing with? Would they use their considerable soapbox to defend the women's team's right to equality? Because an agreement was reached, we never got the chance to find out. But as Duggan told us, "Having these men jump onboard showed what it means when men are secure, professional athletes."
Before the men's team suggested they would boycott, the U.S. women's hockey team's crusade had already been well publicized, and several organizations had rallied behind them. Since the players went public with their stalled negotiations on March 15, the players associations for the NHL, the MLB, the NFL, and the NBA all threw their support behind them. Twenty senators spoke out in their defense. In the decades-long effort to achieve equal pay, there appeared to have finally been something of a sea change: If you wavered on women's right to equality, you were finally on the wrong side of history. Baffling though it may be, in women's sports and in the workplace, that kind of progress is radical.
It's been over 30 years since the passing of Title IX, the federal law that protects women's right to equal opportunities, and female athletes have been fighting for equal pay ever since - without much success. In 2014, 52 NBA players each made more individually than all of the WNBA players' salaries combined. Serena Williams has been given a smaller prize for winning than men competing in the same tournament. And when the U.S. women's soccer team filed an EEOC complaint against U.S. Soccer in June, they were prohibited from boycotting the Olympics, and their negotiations remain ongoing. But one of the many factors contributing to stalled progress is how male athletes have reacted — even in very recent history — to their female counterparts seeking equal pay.
When the U.S. women's team announced their EEOC complaint against U.S. Soccer in March 2016, retired U.S men's team forward Landon Donovan said at the time in a series of deleted tweets, "I'm not for equal pay, I'm for fair pay. If #USWMT generate more revenue, they should be paid more…. This isn't social work or a government job, it's business. Sports is a business, people forget that." Donovan finished his commentary by adding that, by having a twin sister, there was no way he could be sexist. When Indian Wells Tennis Garden CEO Raymond Moore remarked in 2016 that if he were a women's tennis player, he'd "go down every night on my knees and thank God that Roger Federer and Rafa Nadal were born, because they have carried this sport," it's as if the bog he emerged from wasn't familiar with the Williams sisters or Steffi Graf or Billie Jean King. (In response, Serena Williams said, "If I could tell you every day how many people say they don't watch tennis unless they're watching myself or my sister, I couldn't even bring up that number.")
Between them, the U.S. women's hockey and soccer teams have five Olympic gold medals, ten world-championship titles, and both have gone home with gold, silver, and bronze medals in 34 of the 35 major tournaments they've played in. Their male counterparts have a combined two Olympic golds and 14 world-championship medals. Like Donovan pointed out, sports are a business. And athletes like Carli Lloyd, Serena Williams, Cammi Granato, Monica Abbott, and the entire roster of the UConn's women's basketball team deserve a wider stage and greater compensation to prove that winning is also good for business. When male athletes, who are outpaced by their female counterparts, choose to ignore this fact, and detract from women's successes, they become as responsible for unequal pay as governing bodies like USA Hockey or U.S. Soccer.
The playing field in sports always starts equal: When boys and girls join youth leagues, there is very little that sets them apart. But it's when women reach high-school, collegiate, and professional levels that the disparity begins to reveal itself. The gulf begins to widen until female athletes are forced to turn to other careers while men play on, plumly paid and supported. As Duggan said over the phone, "We take a lot of pride in being role models for young girls because you cannot be what you cannot see."
Professional male players have much less to lose when standing up for equal pay for female athletes: They have huge viewership, lucrative salaries, numerous sponsorships, secure contracts. In the male-dominated sports industry, if men's teams stood up and said women deserve equal pay, equal attention, equal programming, it would only push the fight forward faster, and the sports-obsessed world would be forced to pay attention. As we saw with the women's hockey and soccer teams, women can go it alone — but why should they?

Women so often have to work ten times harder to prove they are half as worthy as men in their fields, but a combined five Olympic gold medals and ten world-championship titles should be more than enough for male athletes to start showing that they have their female counterparts' backs. The next time that women raise their voices for equal pay? Male athletes need to emerge from the sidelines and join them.