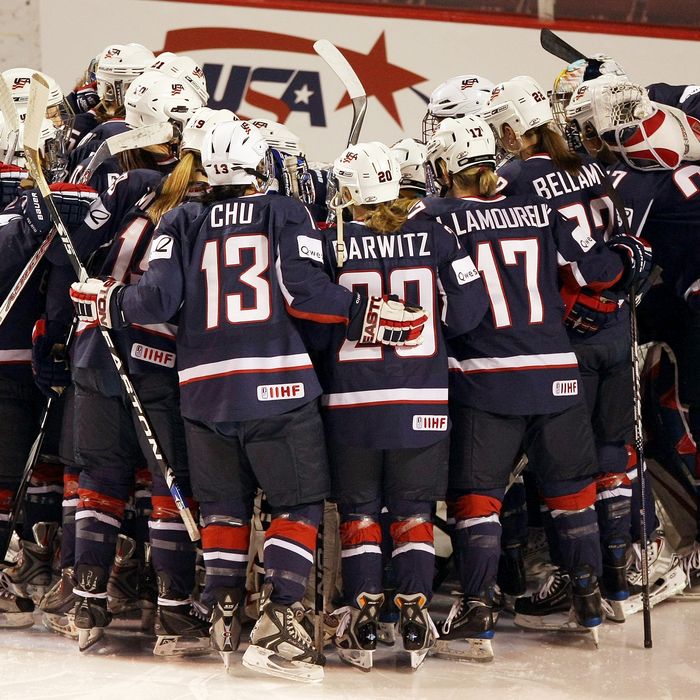 The U.S. women's national hockey team.
Photo: Doug Pensinger/Getty Images
The U.S. women's national hockey team announced on Wednesday that they would be sitting out of March 31's IIHF World Championship in Michigan after stalled negotiations with hockey's governing body over equal pay. In an update to the story, USA Hockey has put a deadline on the team's decision, saying that players must declare their intentions to continue the boycott by 5 p.m. EST on Thursday.
USA Hockey spokesman Dave Fischer told USA Today Sports that each player on the national team has been asked in a survey whether they will participate, and when the results come in at 5 p.m. Thursday, a new plan will be devised for the tournament. One of the proposed plans is to use replacement players.
As for the team, a lawyer for the players told USA Today Sports that there is no way that they will be capitulating. From the national team's new statement:
"We have heard that USA Hockey is attempting to field an alternative team to play in the World Championship games.We regret that they have not instead chosen to reconsider their treatment of the current World Championship-winning team. We stand by our original position: that it is time USA Hockey supported its programs for women and girls at the level it provides to boys and men. And we are grateful for the support we've received from across the world for our stance on this subject."
The women's team's current contracts afford them $6,000 for the six months of play leading up to an Olympic tournament, and little pay during the rest of the four-year period, despite basically competing full-time. (In contrast, men on the U.S. men's national team also play on the NHL, where the highest salary in 2016 was $10.5 million.) The team is asking for fair wages, as well as "youth team development, equipment, travel expenses, hotel accommodations, meals, staffing, transportation, marketing, and publicity."