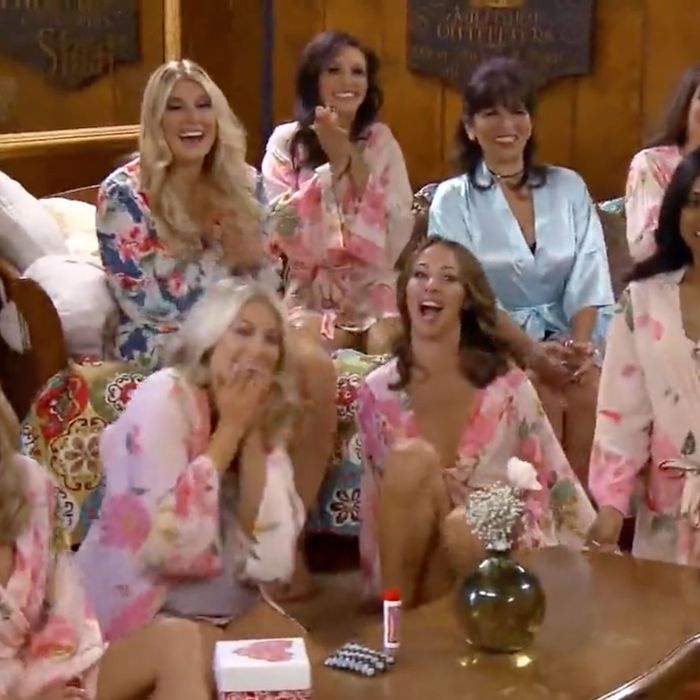 The bridal party.
Photo: Courtesy of Bravo
Before we begin, I regret to inform you that this isn't the episode in which Tom and Katie get married. I was so sure this would be the end of a long, long season of wedding-centric fare, but no, reader, we still have one more to go. This week, instead, is set during the rehearsal dinner, which is themed "Taco Tuesday," because of course it is.
After going over those details with the wedding planner, Schwartz's mom shows up and Tom reiterates that it's a shame that he can't afford to fly his dad, grandpa, and siblings out — even though the wedding cost over $50,000 and maybe, you know, they could've foregone a few stumps in favor of having their loved ones present.
The day of the dinner, everyone goes out for the traditional tubing trip that precedes two souls joining together in holy matrimony. Then they all arrive at the venue, an otherwise peaceful clearing in the woods that's regularly interrupted by a loud passing train and, no, I'm not talking about Kristen. Brittany reveals that her dream wedding will take place in a castle in Kentucky during wintertime with red roses everywh — and I'm sorry, I laughed at "castle in Kentucky" for about 15 minutes until I looked it up. There actually is a castle — in Versailles, Kentucky, no less — so I'll be damned. Oh and Tom Schwartz presents his mother with a ring and I will only say this: It's a wedding ritual with which I'm unfamiliar.
The rehearsal dinner itself mostly serves as a setting for various heart-to-hearts. Stassi has started to date someone new, and so her mother asks her how many dates before they have a "special moment," a.k.a. [stage whispers] sex. Her daughter, unfamiliar with the concept of a boundary, shares that her date went down on her seven times and she cried and ahhhhhhhhh please end this interaction immediately. Stassi and Lisa then have a conversation in which they make up and, fortunately, nobody mentions cunnilingus. Lisa and Scheana have a conversation in which Scheana is trying to convince Lisa and — more importantly — herself, that when she and Shay kiss it's like the first time all over again (and once more, I must link out to the Scheana and Shay divorce announcement that followed shortly after). Katie talks to her dad, who's divorced from her mom, about how the whole family hasn't been together in a while. Katie and Tom talk to Lisa about getting their dang vows done. Plus, Tom Schwartz's triplet brothers — Bert, Billy, and Brandon — all pop out to surprise him, and both Toms cry, as expected. So that's a wrap on all the emotional conversations.
The morning of the wedding, the groomsmen are out fishing while the bridesmaids are all getting dressed. But it's when the groomsmen are getting ready too that you notice that Tom Sandoval and Kristen are way more alike than they'd ever want to admit: They're both desperate to help and please. Tom Sandoval made sure to bring backup ties, backup cuff links, backup shirts, extra hairspray. Meanwhile, Kristen is flitting around like an unfortunate butterfly, asserting herself as Katie's right-hand woman, constantly asking her if she needs anything, like her phone charged or a million extra cases of vodka.
The big dramatic moment of that whole ordeal is when Katie can't get into her wedding dress and adjustments need to be made in order for it to fit. Still, she's ready for "the most happiest day of my life."
Read past Vanderpump Rules recaps here.