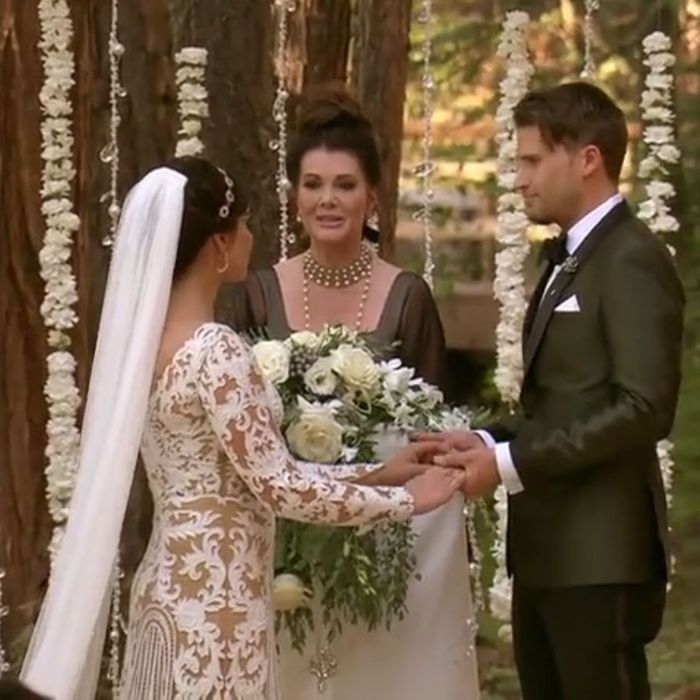 Woodsy elegance.
Photo: Courtesy of Bravo
As this season of Vanderpump Rules comes to a close, let us all take a moment to reflect on the good times and the bad, the sexy times and the unique, the times we laughed with people and the times we laughed at people. We've been through so much together — from the obsession with Lala's secret married boyfriend to Kristen's comedy show, from endless wedding-planning minutiae to the most aggressive pool party of all time. And when it's all said and done, the real Vanderpump rules are the friends we made along the way.
The season finale starts with what the last 20 episodes have been building toward: Katie and Tom's wedding. All in all, it goes off without a hitch — which is surprising, considering literally everything we know about everyone involved. Lisa's speech is charming, and even includes a little dig to not "text on tequila." And most everyone in the wedding party is weeping, not just Tom Sandoval.
Much like the rehearsal dinner, the wedding itself is more of a venue for producers to capture one-on-one conversations, many of which center on the unmarried cast members drunkenly airing how they feel about marriage to their significant others (which is actually pretty accurate wedding behavior!). Jax pulls Brittany aside to tell her that things aren't going well between them, which is his idea of a well-timed prank. He then tells her that they'll get married one day and that there's a "light at the end of the tunnel" — sorry to break it to you, Brittany, but that light is hearing your beefed-up, plastic-surgery-addicted husband ask you to make him a sandwich every day for the rest of your lives. Kristen says something cuckoo-bananas about how she's ready to stop wearing her fake engagement ring and get the real thing. Tom tells Ariana that, until he met her, "I never felt anyone worthy of reproducing with," and she replies with the only appropriate response, which is: "Oh, my God … what are you saying?"
Non-romantically, the show attempts to tie up the Ariana–Stassi fight storyline by having Stassi confront her once again, causing Ariana to start crying, presumably out of sheer exhaustion of having to deal with this over and over again. And Lisa suggests to Tom Sandoval and Tom Schwartz that they all partner together on a new restaurant called Tom-Tom. (I actually squealed a little when she said this, if you're wondering what the after-effects of recapping this show for five straight months will do to you.) Schwartz is a bit reluctant, but it's obviously an excellent idea, if only because neither of their modeling careers will likely be revived anytime soon.
One of the last moments of the night was truly beautiful: Stassi asks Katie, "What's it like to have somebody love you that much?" and Katie pauses for a moment, puts down her glass, then drunkenly and sagely divulges, "It's amazing." Poetry.
But because there are apparently no happy endings on Vanderpump Rules, we then jump to three months later, when Scheana and Shay are not doing so well. News of their split broke in November, and, after a season of very obvious problems, this is addressed onscreen. First, Scheana meets up with Lisa and reveals that Shay hasn't stayed with her once in two weeks, and that he's cleared out their bank account. Back at home, Scheana tells him that it's all over.
Scheana sums it up: "Everything isn't supposed to last forever." Including, dear readers, this season.