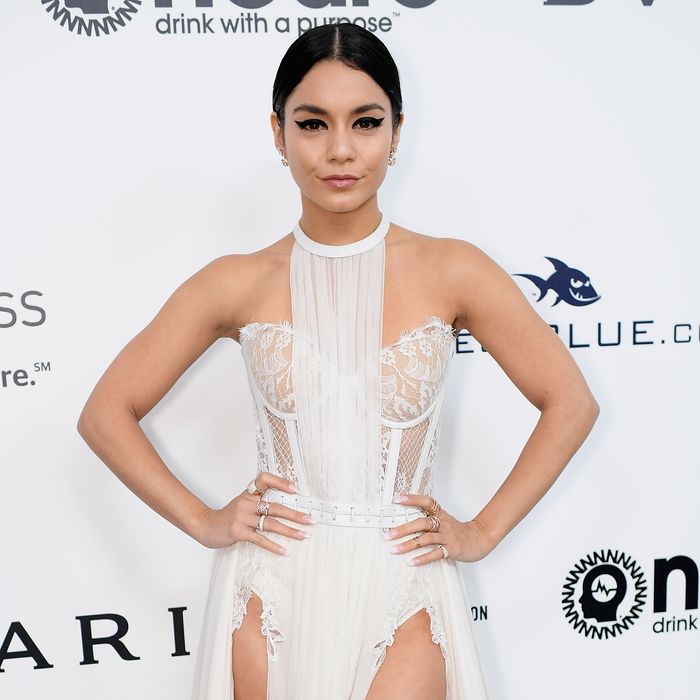 Vanessa Hudgens.
Photo: Dimitrios Kambouris/Getty Images for EJAF
Vanessa Hudgens burst onto the scene in High School Musical a decade ago, and now she's spending her days in a world of superheroes and villains in her new show, Powerless. When she's not busy working (or being spotted at music festivals), though, Hudgens spends as much time as she can outside. In a recent essay for Kiehl's, Hudgens wrote about trying to bring nature into her everyday life, from eating clean to using natural skin-care products. The Cut caught up with Hudgens to chat about how she takes care of her skin and the importance of eating well, but also to talk about her love of SoulCycle.
How I start my mornings: Well, it varies, because right now I'm working. The normal morning when I'm not working consists of waking up, chugging a glass of water, eating some almond butter, brushing my teeth, and running over to a class, whether it's SoulCycle or Pilates or yoga. Then getting a smoothie afterward and coming back to get ready for my day. When I'm working, I wake up a lot earlier than usual, chug a glass of water, get ready, and run to work. I go straight into hair and makeup, play some music, and eat some breakfast in the chair.
On eating well: For me, eating clean always changes. Through the holidays of course, you kind of let go and just eat whatever you want because it's fun and you're enjoying life, but after the holidays I feel like everyone needs to get back on track, myself included. I went and saw a nutritionist and I found the best way of eat for me is a high-fat, high-protein, high-green salad. No carbs, no dairy, and no sugar. In the beginning it was really rough because not having any sort of grains is tough, but as I continued to stick with it I found my energy levels flew through the roof. I had no dips of energy in the day. I felt super focused, super clear. It felt really good, especially in my line of work where you're doing such long days, I need my energy. So I've been sticking with that for a while, and I feel really good — mentally and physically.
My guilty pleasures: Oh, I have so many: chocolate, wine, pizza, sushi, ramen, donuts. But I've limited myself one cheat meal a week. So I think today's going to be my cheat meal, and I'm going to eat some pizza.
Wellness, to me, is: An overall state of happiness. I think that when you have a healthy body and mind, you can't help but be happy in life.
On leading SoulCycle classes: I actually ride on the podium a lot of the time for a few of the teachers, so it's basically like me teaching the class, which is so much fun. I'm such a performer that I know that if I'm in front of the class, I'm going to push myself so much harder, which is good for me but I also think I have a lot of energy and it's fun to be able to inspire a class with that.
My biggest wellness hack: Just drinking a lot of water. It's something that's so easy to forget about but when I'm tired, I know I'm dehydrated, and when my skin's not great, I know I'm dehydrated. It's just so important to drink a ton of water.
How wellness has changed for me since High School Musical: Well, it's been ten years since High School Musical, so my body's changed a lot. I can't eat whatever I want and keep a slim figure. My diet has definitely changed significantly, and I used to hate working out. Now, if I don't work out, I feel totally off. It's just something that I need in order to stay sane.
My best wellness advice: Well, to drink a lot of water [laughs], and also to take care of your mind. I think a lot of people get really stuck on trying to fix their bodies to be a certain way, but if your mental health isn't at a place where you can love yourself, the whole thing's pointless.
My skin-care routine: I make sure to wash every morning and night. I love Kiehl's products. I use almost everything of theirs; my cabinet looks like a Kiehl's product ad. They have a lot of great products, especially ones that I use on set, too, like their astringent toner I use a lot. When I'm working 15-hour days, I need something to really get the makeup off, and that does. And masks for me are key — Kiehl's just came out with a new one called the Calendula & Aloe Soothing Hydration Masque and it's so good for me. I do it two or three times a week and it just completely revitalizes my skin. It just moisturizes it, and leaves me feeling really refreshed, so I think that's a really key thing that I've added to my beauty routine.
On sun protection: I always try to wear sunscreen, especially on my face, just because I think that when we're young and we're carefree about it and we don't really think twice about the fact that the sun can be damaging to our skin. I don't want wrinkles, so every time I go into the sun, I try to wear a lot of sunscreen.
Why I love being in nature: I love hiking. I love just being outside; having a moment to myself to clear my head and get some fresh air. And also, going on vacations, I love going to places that are tropical or forests, and really just taking the time to get to know the land and the environment. Just stop to take a moment to really take it in. I think it's so centering, so grounding.
Why I'm often spotted at music festivals: My favorite thing about music festivals are running around barefoot on the grass while I listen to music and making memories with new friends. I think it's so healthy being able to get a release through music, because it's not something that you need to think about. With music, you just feel it. It's something that just resonates with all of us, and when you're in a big group like that at a festival, it's something that's just really special. Everyone is focused on the same thing, and everyone is moved by the same thing. It's almost like a spiritual experience.