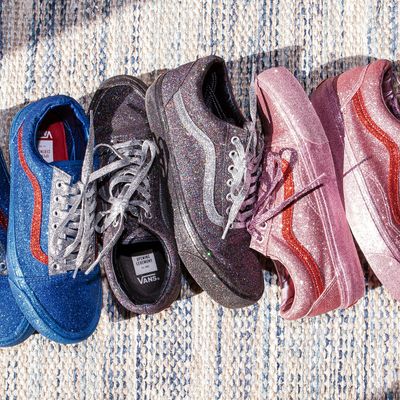 Few things inspire as much frenzy as sneaker collaborations. You only have to look at the line outside Supreme during its weekly drops or the crowd that gathers at a Foot Locker for every Jordan release. But even if you're not a sneakerhead, hypebeast, or shrewd eBay reseller, you're going to want this Vans for Opening Ceremony collaboration.
Their partnership isn't new but this release is by far their best. The two decided to take the OG Old Skool LX sneaker, a standby design that's very recognizable, and dunk it into a bucketful of sparkles. The result is an insanely glittery concoction that comes in three colors: blue, black, and pink. Yes, they're not exactly the most classic shoe but does that even matter when all you want to do is squeal oooh shiny with a smile on your face? Throw them on with jeans to celebrate the end of winter and add them to a dress when you're ready to frolic in the warm weather.
Scroll ahead to see all three colors in better detail.
For the minimalist who can't help but add in a little bit of flash.
The red stripe against the blue is very striking so get these if you're set on making everyone notice your sparkly shoes.
This shade of pink, when in glitter form, is just the right level of attention seeking before tipping over into garishness.