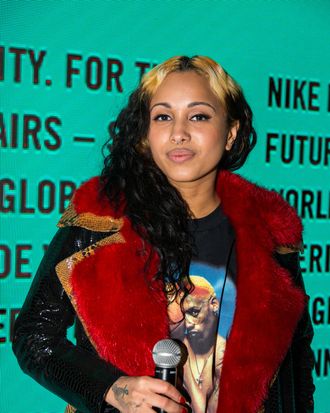 In the notoriously male-dominated DJ scene, Venus X stands out as one of the few women behind a turntable, but that's kind of the point. Assimilating to mainstream expectations has never been her thing. "There are a lot of pressures that come along with being a female in the entertainment world," she says. "Be skinny, be pretty, dress this way, cater to men. There's not a lot of room for dykes who don't look good. When I started DJing, I was dating a woman and that was really hard because I faced a lot of backlash from guys."

When the phrase "model/DJ" is attached to a social-media bio as often as avocado toast gets posted on Instagram, it's hard to differentiate the real thing from those who are there to press a button and collect a check. But Venus X takes being a DJ more seriously than most, perhaps because she's one of the few women on the scene. "People assume that girls don't know how to use equipment, that our ideas aren't valid. [They think] we're just dancers and props. I want to cater to my music. I want to cater to my set. I don't want to cater to the man who's booking me or the man who's watching me," she says.
I first saw Venus X in A$AP Rocky's Peso video (when she had sea-green hair) back in 2011. But by then I was already late to the party: All of my friends already knew who she was, or had heard of GHE20G0TH1K, the epic party series she started alongside Hood by Air founder Shayne Oliver. ("We met when we were like 17, in the streets," she says.) What started as an underground gathering for minority kids in Washington Heights turned into a brand itself. "He's making clothes; I'm making music. We're doing parties. We're building this culture," she says. "It's a new lifestyle."

These days, it's impossible to think of Venus X as a DJ alone: She's a curator for her shop Planet X, a cultural figure, and, now, with a specialty Air Max sneaker for Nike, a burgeoning designer. She was one of a handful of young artists handpicked by the legendary sneaker company to participate in RevolutionAirs — a global competition to design the next Air Max sneaker.

Looking through all of 12 of the RevolutionAirs Air Max designs, hers hits you like a visual overload. A red-and-yellow lace-up sneaker-boot contraption, it sticks out in the abundance of modest white and neutral designs of her competitors. "DEFCON 1," as she's named it, was inspired by the five-color-coded and numbered alert system used by the United States armed forces to indicate threat levels; with the colors yellow, red, and white and the number one correlating with the high imminence of war. The yellow and red, as she tells it, aren't just aesthetic choices — they're a critique of Donald Trump and his dangerous politics. "I don't want people to hear the name and think, 'Oh, it's DEFCON 1, what an exciting name, it's just like Air Force One,'" she says. "If we don't want to prepare for the end of the world, we should prepare to impeach our President."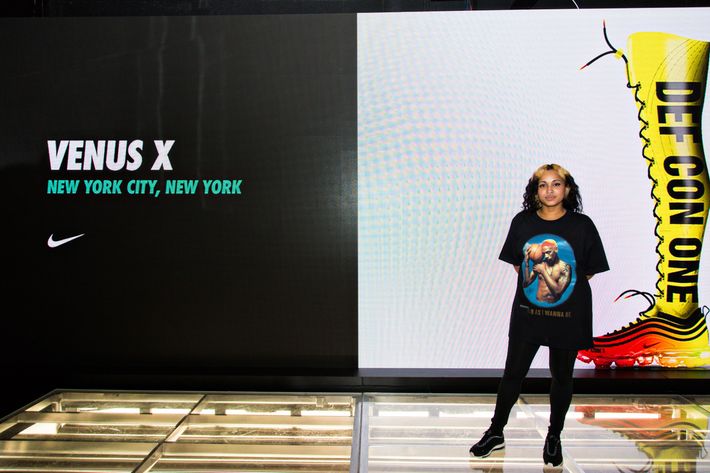 When we meet, she's decked out in a flashy black-patent-and-red-fur Kim Shui coat, but while any other fashion girl would pair it with heels, Venus X goes for black crystal Nike Air Max sneakers. That's just the way she does things — Timberland boots, hoodies, and larger-than-life sunglasses. But the look is never frumpy. Rather, it's a consciously styled tomboy aesthetic. "My head is down. I'm not there to look cute," she says. Venus X plays with sweat dripping down her face, her head in the music, and she doesn't care who else doesn't find that appealing: "I like to be sexy but not when I'm DJing. I get too sweaty."
Known for her '90s-leaning, streetwear-infused goth style, Venus X is somewhat of an icon in the alternative street-style scene — and you know you're an icon when Rihanna's accused of jacking your style — so it's surprising to hear her downplay the importance of appearances on the job. And then again, she realizes there's more to her craft than labels and sexual appeal. There's also battling the misconception of using sexuality as a tool to advance. "As a girl in the industry, you constantly have to deal with that. You constantly have to deal with the fact that people don't like women who are independent." For Venus, it's a matter of blazing her own path.