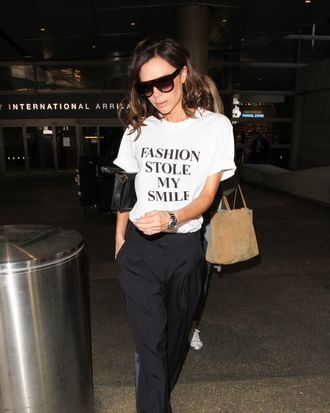 Victoria Beckham.
Photo: starzfly/Bauer-Griffin/GC Images
It seems we have a theft on our hands and the fashion industry is the culprit. Victoria Beckham, formerly of the Spice Girls and now one of the industry's resident designers, has, alas, been robbed of her megawatt smile.

At least, that's what Beckham's cheeky new T-shirt reads: "Fashion Stole My Smile."

It's easy to see how Beckham is having some fun here. Back during her pop-star days, Beckham was the Spice Girls member who always kept her cool demeanor as the sexy but rarely smiling Posh Spice. Her "serious" appearance continued long after, and press photos of her for years have shown nary a smile.

Beckham has also long joked that the fashion industry is to blame for her lack of smiling. She told as much to Glamour in 2012 when she guest-edited the magazine. "I actually used to smile a lot in pictures," she said. "I think I only stopped smiling when I got into fashion … Fashion stole my smile! I've created this person. And I'm not saying that's not me, but I wouldn't say that's the whole me…. It's an armor that goes up."
Still, Beckham's refusal to smile in public has become a bit of a running joke and one that her husband, David Beckham, couldn't help but join in on in 2013 when he shared a rare photo of her on Facebook — gasp! — smiling. The caption? "See, I told you she smiles."