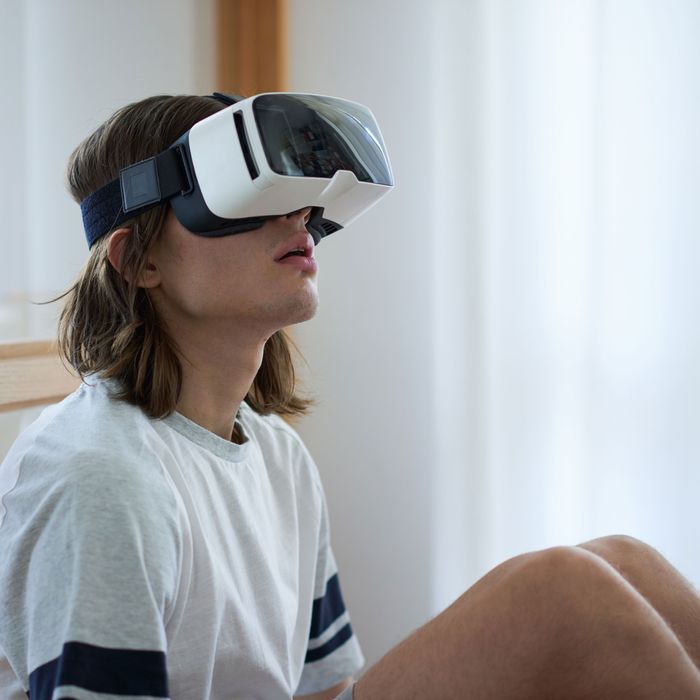 Photo: Kai Wiechmann/Getty Images
As virtual-reality headsets make their way into the mainstream, a new wave of VR pornography allows viewers to embody porn stars while they have sex with one another. But making this porn presents new challenges — starting with the fact that few male performers can maintain erections through stupendously difficult VR-porn shoots.
For this week's Sex Lives podcast, I watched VR porn for the first time and was, well, horrified. But Vocativ staff writer Tracy Clark-Flory has a more optimistic view. She's been hanging out on VR-porn sets, and testing VR porn, webcams, and interactive experiences for years. As she tells it, one of the biggest surprise of VR porn is that viewers don't actually want the horrifying stuff — they want to be cuddled. Listen to Tracy explain the paradoxes of virtual boners, or read a few tales from the wild world of virtual porn, below.
This is a partial transcript of New York Magazine's Sex Lives, edited for clarity and length. To respond with a voice message, call 646-494-3590.
You've written that the demands of performing with this technology are having some crazy effects on who's able to perform, and the way they perform?
A major issue for people who have ventured into this new territory is they're finding that tried-and-true male performers who have been in the industry for decades — who can literally perform under the craziest circumstances, like, standing in a pool of cold water, perched on a rock in the middle of a baking desert, no problem! — but you put a VR camera rig in front of their face, and you tell them that they can't make eye contact with their co-star, and that they can't kiss their co-star, and that they can't touch their co-star with their hands, and they can't maintain an erection. Understandably, because you're totally taken out of the experience and you sort of become this sexual object that someone [else] is performing on. So directors are finding that guys who had been reliable in other situations are no longer reliable. There's only a handful of guys who are actually able to reliably do this kind of shoot.
It's the ultimate objectification, except the point of the objectification is that they aren't an object, right? They become an invisible body, for anyone to project onto.
It's a weird turning of the tables for men in the industry, because they're used to being the actor. And the women in porn — not always, but often — are used to being a little bit more passive.
What is it doing, do you think, to the story lines or the type of fantasies that we get from porn?
Everything that I've heard from directors who are doing VR is that male viewers, in particular, really want more of a "girlfriend experience" with VR. So they want it to be very intimate. They want eye contact. They want close faces whispering sweet nothings. They want, even, cuddling. I was on a set recently where at the end of the shoot, the director had the woman cuddle up on the guy — just lay her head on his chest for a minute and just cuddle.
And gaze up into his eyes? Or the camera's eyes, I guess?
Yeah, exactly, gaze into the camera's eyes. I've heard porn performers, especially porn performers who are doing like webcamming, and that suddenly their fans are going, Wow, you're a real person. It changes their perspective entirely.
As you've been watching this industry take shape over the years, how has it changed? Have there have been interesting trials and errors or surprises?
In terms of VR, it's so new that you're still seeing a lot of trial and error right now. Like, one example, on a shoot I was on, a female performer, without prompting by the director, decided that she was going to experiment with trying to French kiss the camera. So she went up really close to the camera and French kissed the air. And it looked like very bizarre and required a lot of commitment on her part, to really do it. And afterwards she asked the director, "Was that weird? Did that work?" And the director is like, "I think maybe?" But so much of it is waiting to see how viewers actually react.
I watched VR porn from a female perspective recently, and there was a blow-job scene. So like, the female performer was performing a blow job, but it's so incredibly disorienting for the viewer, because all you're really seeing is the male torso thrusting. And that didn't work.
I don't even enjoy that in reality-reality, when it's a male torso coming at you? Why would I want to replicate that in virtual reality? Although I guess one woman's nightmare is another woman's turn-on, if I have learned anything from doing this job.
[Laughs] Right.