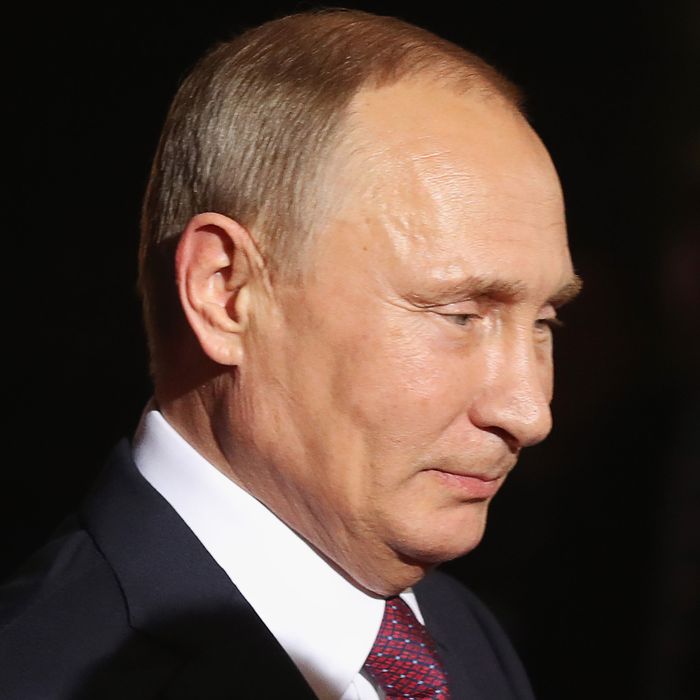 Vladimir Putin wants to "congratulate" Russia's women.
Photo: Sean Gallup/Getty Images
Wednesday was International Women's Day, and each world leader celebrated in their own special way. Justin Trudeau announced a $650 million plan to promote women's sexual and reproductive health; Donald Trump tweeted, and Vladimir Putin — president of a country that decriminalized domestic violence, uses women in politics as "showgirls" to attract voters, and has gradually restricted abortion access even as it fails to make contraceptives more widely available — wrote a heartwarming little blog post to "congratulate" Russia's women.
"You fill this world with beauty and vitality, giving warmth and comfort, cordiality and harmony with your tenderness and generosity of spirit," he told them. "You care day and night for your children, grandchildren, and your family. Even today, on International Women's Day, you are still caught up in your routine, working tirelessly, always on time."
He even included a little poem by Konstantin Balmont, a Russian poet with some really tangled marital issues, which he said describes women in a "vivid" and "precise" manner:
A woman — with us when we are born,

A woman — with us in our last hour,

A woman — our standard during battle,

A woman — the joy of open eyes.
"Women give us life and perpetuate it in our children," he went on, before adding that men should "do our utmost to surround the women we love with care and attention, so that they can smile more often." That's right, women of Russia: smile more.
Watch what International Women's Day looked like in New York City in the video below.