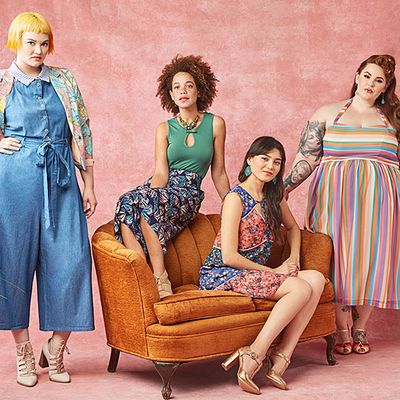 ModCloth's current campaign.
Photo: Courtesy of Modcloth
As predicted earlier in the week, adorkable-HQ ModCloth is, indeed, coming under the ownership of the not-so-adorkable Walmart. According to a company release today, the e-retailer has been acquired by Jet.com, which is owned by Walmart. In a post on the ModCloth blog, co-founder Susan Gregg Koger called the news "bittersweet," acknowledging that the past few years have brought layoffs for the company. Koger said that the acquisition would give ModCloth "the necessary resources and support that we need as a business to grow," which she said could include more brick-and-mortar stores.
But the question is, will women be flocking to them? ModCloth has prided itself on being an indie brand, and it seems many of its loyal customers are not as content with the big-box deal as Koger is. As the announcement hit, they immediately began taking to Twitter to share their distaste for the new ownership, with some saying they will no longer shop there. Writer and customer Jess Krause even wrote a widely circulated post suggesting shopping alternatives. Between this and pissed-off Supreme loyalists in the wake of the skate brand's LV collaboration, it seems that indie-sellout outrage — once thought to have gone extinct around Y2K — might still exist.