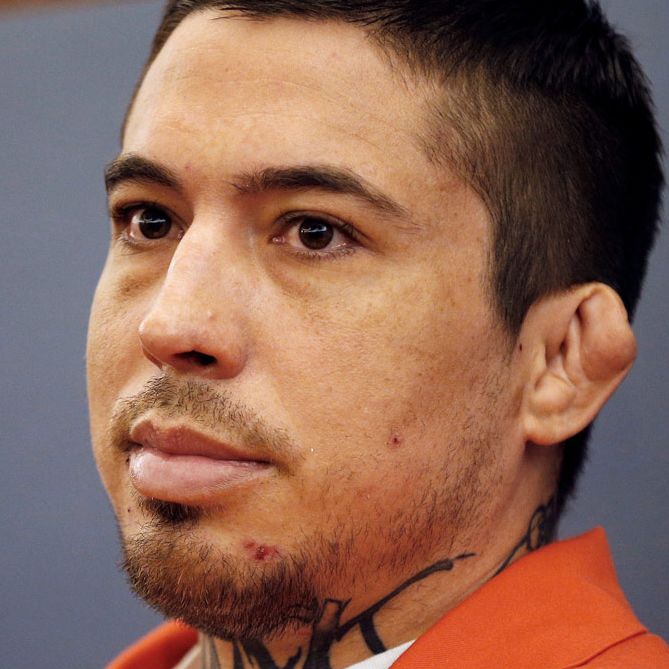 Jonathan Paul Koppenhaver and Christy Mack.
Photo: AP
In August 2014, MMA fighter War Machine — whose birth name is Jonathan Paul Koppenhaver — stormed into ex-girlfriend Christy Mack's home, where he found her in bed with the man she was dating at the time. Koppenhaver beat him before turning his sights on Mack and assaulting her so brutally that he broke her nose, fractured her eye socket, ruptured her liver, and punched her teeth out. Mack, now 24, also said he had sexually assaulted and beat her several times over the course of that year. On Monday, a jury convicted Koppenhaver, 35, of 29 felonies, including kidnapping and sexual assault. He was acquitted of sexually motivated coercion, battery with intent to commit sexual assault, and burglary.
Per the Associated Press, defense attorney Jay Leiderman claimed Koppenhaver was "a 'raging bull' with brain injuries from his fighting career and emotions inflamed by the use of steroids and nonprescription stimulant and antidepressant drugs that combined could have caused mood swings and violence."
Leiderman's defense, according to the Washington Post, also included calling both victim — a former pornographic actress — and assailant "damaged people." He also "claimed that she had rape fantasies and had asked her former boyfriend to surprise her."
Koppenhaver's sentencing is scheduled for June 5. He is facing life in prison.