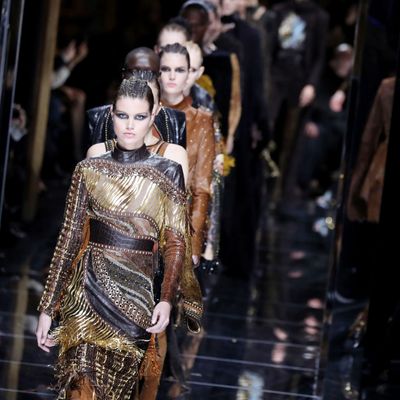 Balmain Fall 2017.
Photo: Antonio de Moraes Barros Filho/WireImage/Getty
It's been a little over a year since Balmain's Olivier Rousteing dressed the Kardashians in feathery white coats for Kanye West's fuckboy heaven, joining them in the front row at Yeezy Season 3. Today, the Kardashians and Jenners were noticeably absent from the designer's Paris Fashion Week show, besides Kendall — likely because of Kim's robbery here last fall.
Still, Rousteing seemed to have the first family of Calabasas, and the rest of his celebrity posse, in mind for this collection, which mixed heavy-metal rock motifs with jewel-encrusted jackets and gowns that you could imagine Kim and Rihanna wearing on the red carpet.
In a mirrored room, dozens of crystal chandeliers hung above a silver mirrored runway. Nicki Minaj, Zayn Malik, and Nick Jonas were all there.
Gigi Hadid opened the show in a fringed skirt and gold-striped lips, walking to Nirvana's "Smells Like Teen Spirit." She and Jenner walked twice; models Dilone, Sara Sampaio, and Lily Donaldson were also on the lineup.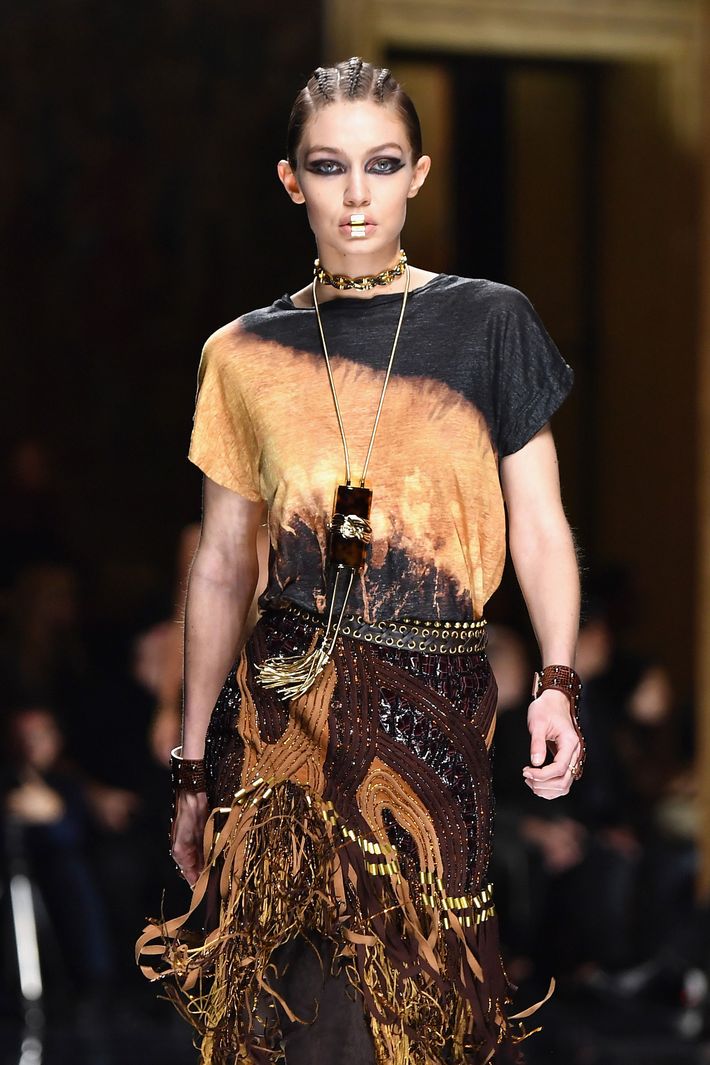 Looks on the runway mirrored the soundtrack of rock music from 1970s and '80s (by Aerosmith and the Eurythmics) playing throughout the show. Gold, brown, bronze, caramel, and black filled Rousteing's palette for this collection in head-to-toe monochrome knits and various textures and cuts. There was so much fringe (in leather, knits, suede, and metallic) plus stage-ready, lavishly embellished coats and gowns.
The beauty look: bare or striped gold or black lips. Models wore thick eyeliner with a few cornrow braids at the top of their heads, with their hair pulled back into long, straight ponytails.
All the animals were here: Wolves were printed on shirts and dresses, like a throwback to old-school metal band T-shirts.
There were structured fur jackets, cow- and zebra-printed pants, and nearly an entire crocodile (worn by Kendall Jenner, to close the show).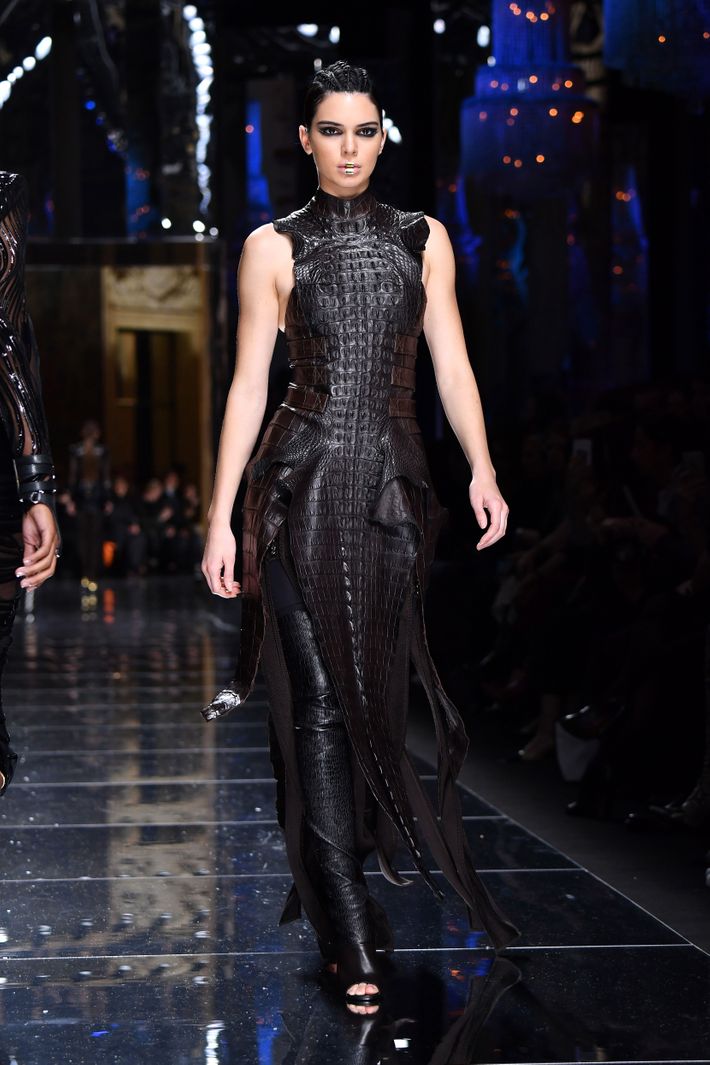 Models wore a slew of rock-chick accessories: thick chokers, fringed bags, corsets, and leather belts.
After the final walk, Rousteing came out with a newly shaved head and took a bow.