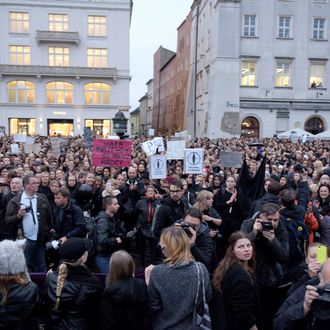 Women striking in Poland.
Photo: Anadolu Agency/Getty Images
On Wednesday, March 8, women across the world are going on strike. If circumstances allow, they're refusing to go into work that day, abstaining from unpaid work at home (including child care, if they can), and withholding their purchasing power from the U.S. economy
Those interested in supporting the cause can do so in different ways: You can attend rallies, livestream videos of protests, or even just wear red in solidarity. Here's how you can participate in the Women's Strike no matter where you live.
IF YOU'RE NEAR NEW YORK CITY
Day-long activities from the International Women's Strike USA. From 9:15 a.m. until the rally at 4 p.m., the International Women's Strike is hosting a day full of activities, ranging from self-defense classes to sign making, art activities with Parsons School of Design students and faculty to a 'Know Your Rights' workshop from the National Lawyers Guild. The full schedule of events can be found here.
A Day Without A Woman: New York City. At noon on Wednesday, strikers are meeting at the intersection of 5th Avenue and 59th Street "for a show of solidarity and revolutionary love" at the #DayWithoutAWoman rally, from the organizers of the Women's March. The organizers ask that everyone in attendance wear red. More information can be found here.
International Women's Strike NYC: Rally and March. From 4 p.m. to 8 p.m. on Wednesday, a rally and march organized by the International Women's Strike NYC will be held, starting out in Washington Square Park. There will be musical and artistic performances, followed by a march to Zuccotti Park that starts at 5:30 p.m. The march will stop in front of the Triangle Shirtwaist Factory, the famous Stonewall Inn, the Immigration Court, Trump Hotel Soho, and the African burial ground on the way downtown. More information can be found on the Facebook page.
IF YOU'RE NEAR WASHINGTON, D.C.
You can participate in two of the biggest events of the Women's Strike, which will be occurring on Wednesday in Washington, D.C.
Protest: RESIST TRUMP. STOP THE GAG. Starting at 11:30 a.m. at the Freedom Plaza in D.C., almost 40 organizations are sponsoring a protest against the Global Gag Rule (Mexico City Policy), one of the first actions President Donald Trump took after entering office. "This is about a U.S. foreign policy that has devastating impact and health consequences for women and girls globally," Serra Sippel, president of Center for Health and Gender Equity, told the Cut. "We thought that International Women's Day would be an important day to mobilize support for women and girls who are impacted by the policies made here in Washington, D.C."
The protest will feature live testimony from women's rights and health advocates, in addition to slam poetry, music, and performances. From 12 to 1:15 p.m., protesters will march from the Freedom Plaza down 14th Street Northwest to Lafayette Park. For more information, visit the event's Facebook page or follow along on Twitter with the #TrumpGlobalGag and #NoAbortionBan hashtags.
Massive Women's Rally at Department of Labor. From 3:30 to 5:30 at the U.S. Department of Labor in D.C., there will be a rally with women workers to end workplace violence and harassment, in addition to calling for pay equality, one fair living wage, labor rights at work, and paid leave. The event will feature performances, testimony, dance, films, and more, from Eve Ensler, Climbing PoeTree, Sophorn Yang, and other women workers, activists, and artists.
Saru Jayaraman, co-director of Restaurant Opportunities Center United, told the Cut that protesters will be surrounding the building until 4:15, when they will march up to John Marshall Park. She explained that it truly will be a rising — "Workers standing up and saying we resist the Trump agenda," she said. Jayaraman expects the event will draw one of the largest crowds of the day — around 1,000 people. More information can be found here.
IF YOU'RE ELSEWHERE IN THE U.S.
There will be a ton of different Women's Strike activities happening all over the U.S., from Alaska to the Midwest and California. The International Women's Strike website has a comprehensive list of events in major cities all over the country.
IF YOU'RE OUTSIDE THE U.S.
International Women's Day has long been celebrated by women in countries across the globe and tomorrow will be no different. There will be plenty of strikes and rallies taking place in major cities, including those in Argentina, Canada, Sweden, Poland, Italy, Australia, Chile, Guatemala, Myanmar, Timor-Leste, and more.
IF YOU CAN'T TAKE TIME OFF FROM WORK
Most women who work outside the home aren't necessarily able to take a paid day off of work to strike. But even if you have to go into the office, there are still a number of ways you can support the strike's message.
You can wear red. The organizers of the Women's Strike have asked that everyone — men and women — wear red on the day of the strike to show solidarity. So if you can't attend a rally or leave work, you can still wear red.
Talk about the strike with your co-workers. Terry O'Neill, president of the National Organization of Women, pointed out that, even if you have to go into the office, you should still try to engage your co-workers in conversations about the strike. "You should talk to co-workers about the importance of taking back political power from frankly the white-supremacist agenda that is being promoted by the Republican party," she told the Cut. "And I say that as a person who leads a nonpartisan organization."
Stay engaged on social media. Many rallies and protests will be streamed online. Sippel recommends watching and sharing videos of the various events, in addition to showing your support on Twitter, Facebook, and whatever other social media you use.
Don't shop — or if you must, support local, women-owned businesses. O'Neill noted that part of the strike's aim is for women to abstain from contributing to the economy that day — which includes not shopping or spending money. However, that may be an impossibility for many women, so if you need to spend money, O'Neill suggests doing so at a smaller, women-owned business.
This post has been updated throughout.