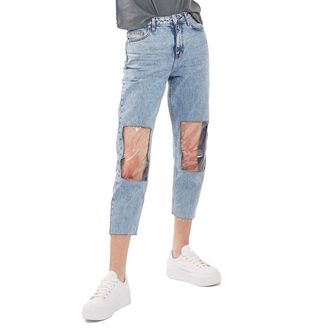 Eyes are the window to the soul, and, less poetically, these clear knee mom jeans are the window to the knees. Designed by Topshop and sold at Nordstrom for $95, they're unsurprisingly tearing the internet apart with their, uh, unconventional design.

Practical uses include: showing off your knees in inclement weather, allowing you to broadcast subliminal messages written on your lower thighs, and protecting you when you fall to your knees and dramatically scream at the heavens.
Plus, they're still somehow better than boot-cut jeans.