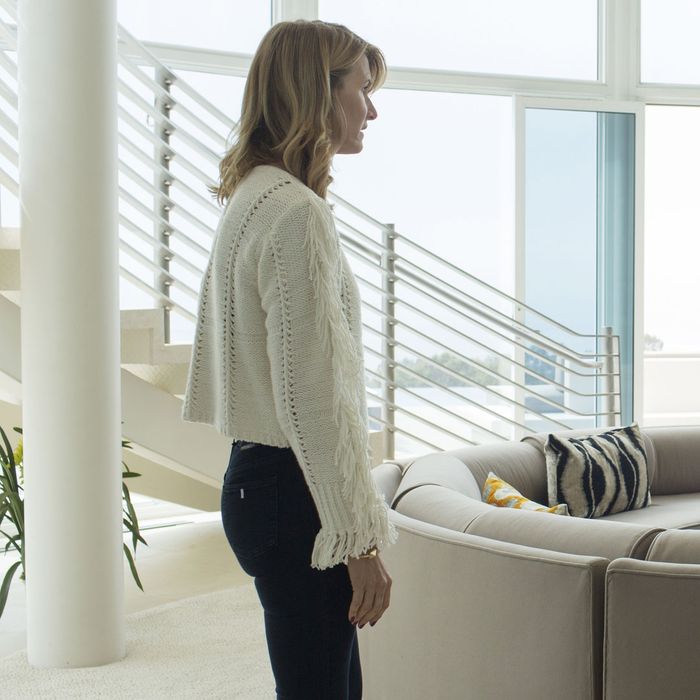 Laura Dern on 'Big Little Lies'
Photo: Hilary Bronwyn Gayle/courtesy of HBO
There are a lot of standout looks on HBO's glossy prestige drama Big Little Lies, from Celeste (Nicole Kidman)'s Gucci-filled, fifty-shades-of-beige wardrobe to the perfectly accessorized floral prints favored by type-A hero Madeline (Reese Witherspoon). But our favorite look this week comes courtesy of Silicon Valley mogul and Monterey supermom Renata Klein (Laura Dern), who is currently doing for the Power Sweater what Hillary Clinton did for the Power Pantsuit.

Here's where to get Renata's impeccable fringed sweater, or one like it: the perfect piece of transitional knitwear to take you from the office to the school drop-off line. (Pairing with a Hermes belt is not required).
The actual sweater Renata is wearing in the episode is this 3.1 Phillip Lim fringed sweater. It's pretty much sold out in most sizes since it's 40 percent off but if you're a size 6 you're in luck (for now)!
If you're desperate for this sweater and want it by tomorrow, there's a similar version on Amazon Prime that's not quite so cropped but still has the fringe detail — and it's under $100.
Autumn Cashmere is known for its snuggly soft sweaters and this one's no exception. Made from 100 percent cotton, it comes in a neutral tan color for the stain-prone.
This Tory Burch sweater was originally $495, but rings in at $173 now — a steal for a straight-off-the-runway piece. And it's still more affordable than the one worn on the show.
Photo: Daniel Besikian/Daniel Besikian
If you're looking for something really special, try this Proenza Schouler sweater. The entire thing is hand-crocheted, with fringe on the hem that looks intentional, not incomplete.
If you buy something through our links, New York may earn an affiliate commission.