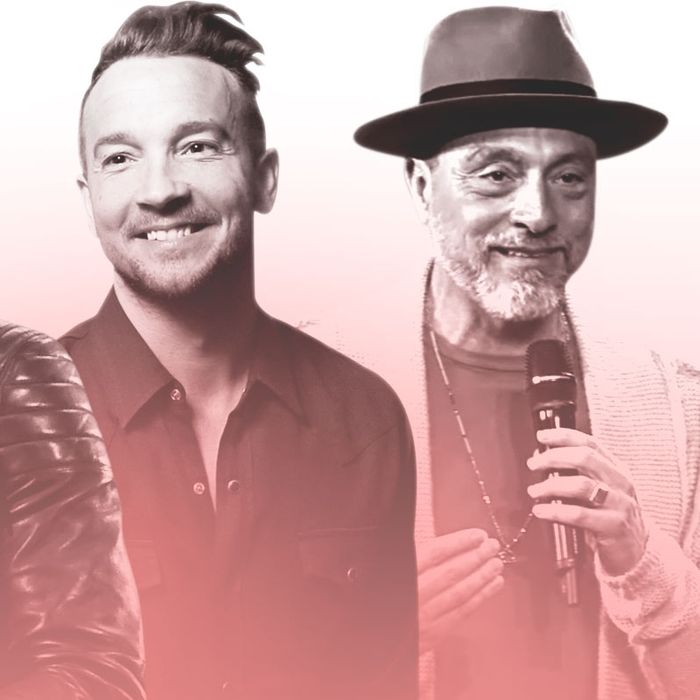 Cool pastors Judah Smith, Carl Lentz, Erwin McManus.
Photo-Illustration: Getty Images
We're living in the golden age of hipster megachurches. Forget staid and solemn proceedings officiated by an aging priest or fiery sermons by traditional televangelists — these services are led by a guy in a beanie who resembles an Instagram Model/DJ (and may still hold pretty antiquated views on homosexuality). They're also a favorite among millennial celebrities. Selena Gomez recently posted a photo of one of her "favorites," Judah Smith. Justin Bieber was baptized in a bathtub by Carl Lentz, a pastor who looks like he shares a closet with the pop star. Vanessa Hudgens, a member of Lentz's church, Hillsong, described it as "Arcade Fire — it's epic like that."
With so many skinny-jeaned ways to the Lord, it can be hard to decide which path to take. We'll help break them down for you here:
The mother of all hipster megachurches, it went Jesus x Urban Outfitters before it was cool.
Location: Hillsong was founded in Australia, but now has offshoots all over the world. The NYC branch in Midtown West attracts about 8,000 congregants every week.

Leader: Pastor Carl Lentz, an immaculately groomed man who wears a signature black motorcycle jacket and cries often during this GQ story by Taffy Akner.

Denomination: Pentecostal.

Celebrity parishioners: The Biebs, Kevin Durant, Vanessa Hudgens, Kendall Jenner.

A recent controversy: Despite their seemingly progressive aesthetics, they openly denounced homosexuality in 2015 after it was discovered that their choir director was engaged to a man.

Do they speak in tongues? Yes.
With clean lines, block letters, and washed-out photos of Los Angeles, Mosaic's website looks like it could be for anything from a new fitness class to a start-up.
Location: L.A.
Pastor: Erwin McManus, who leans a bit older, but has nonetheless embraced the styling options of his peers. Per this New York Times article, he "attends TED conferences and invokes Burning Man."
Denomination: Nondenominational.
Celebrity parishioners: Bobak Cyrus Bakhtiari, who, according to the same Times article is "an actor who commutes to Mosaic from his home on a yacht in Marina del Rey, Calif."
Just one parishioner's complaint: Again, from Bakhtiari, "Sometimes at Mosaic, it can feel a little commercial, when it's just, like, this really homogeneous hipster-y space of selling Mosaic and they kind of get into this mode of 'Hey, fill this out, tweet, link up with us.'"

Do they speak in tongues? No.
Justin Bieber's other church of choice, City Church, is a bit like Hillsong's little brother — and in the same network.
Location: It was founded in Seattle, with Guadalajara and L.A. outposts — the latter obviously being the one at which to see and be seen.
Pastor: The aggressively bespectacled Judah Smith, who, in another life, could be that barista who you ghosted you after you hooked up. He's also buds with Carl Lentz from Hillsong.
Denomination: Nondenominational.
Celebrity parishioners: Selena Gomez, Justin Bieber (he gets around), Tim Tebow.
A bit of an, uh, unconventional sermon you won't be able to unhear: Rachel Handler of MTV News went to a service in L.A. during which Smith talked to his congregation about the quality of sex he was having with his wife. "It was an awesome anniversary celebration and there was just a lot of sex. Chels and I have determined that we literally have had sex more than 2,000 times … If you had sex with the same person 2,000 times, you get good. I'm just saying. I'm having a lot more fun than you are. I can guarantee you that, buddy," he preached, adding, "You know God makes sex, right? So if we're God worshipers, Jesus followers should have the best sex on the planet because it's sacred sex and it's dedicated sex and it's in-the-context-God-intended sex, so it's the best sex."

Do they speak in tongues? Yes.
Not a Christian church at all, but a "conscious community" led by '90s heartthrob Andrew Keegan. They were forced out of their existing space because of rising rents, but will live to see another day.
Location: Venice, California.
Pastor: Andrew Keegan.
Denomination: "I'm not religious, I'm spiritual."
Celebrity parishioners: Andrew Keegan.

A low point: When they got busted by police for selling illegal kombucha.

Do they speak in tongues? Uh, you could say that.